People are spending less on their cars, so the retailer is investing in the booming cycling market by Tiffany holland.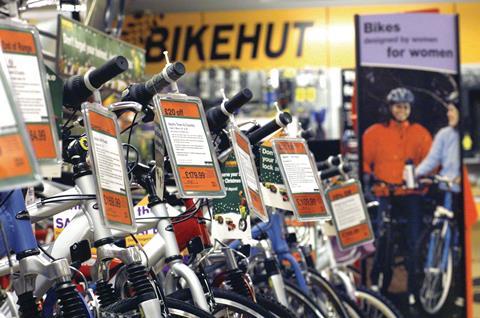 Car parts and bikes specialist Halfords' second-quarter performance revealed the retailer's relative resilience in a market that has been heavily knocked by a fall in car usage.
The automotive industry has suffered from declining sales as cash-strapped consumers spend less on repairing and refurbishing vehicles, and opt for public transport over cars as the cost of fuel rises.
Halfords – once a star performer despite the tough climate as it benefited from the surge in popularity of cycling – is now suffering declining sales, with retail like-for-likes falling 2.8% in the 13 weeks to September 30, while total sales at the division slipped 2%.
However, the retailer said it expected group pre-tax profit for the first half to be in the range of £53 to £55m. At the time Arden analyst Nick Bubb said he was "relieved" that Halfords did not downgrade expectations.
While sales of car-related products declined, cycling showed advances with like-for-likes up 5.7% after the launch of a new Carrera range of cycles in July.
At its Autocentres arm, like-for-likes rose 3.1% in the second quarter, as last year's £75m acquisition of Nationwide Autocentres continued to pay off.
Renamed Halfords Autocentres, the retailer has a long-term goal of growing to 600 centres nationwide from its current batch of 240.
Last year Halfords was in the market for more acquisitions, as it aimed to make the most of its strong balance sheet. However, further purchases were put on the back-burner as the retailer decided to focus on its core UK business, and in March 2010 it closed its European operation, which comprised a handful of stores in Czech Republic and Poland.
Halfords has continued to invest in its growing multichannel offering, launching a mobile transactional site last year.
This year it launched a new advertising campaign, emphasising its service credentials, with the tag line of 'That's helpful, that's Halfords'.
It has also tried to further tap into the growing cycling trend, particularly in London, where it has been trialling smaller shops that focus on bikes. In reaction to consumers' search for value, it has also edged down entry price points, although overall prices have risen.
Halfords: the facts
Chief executive David Wild
Number of employees 11,233
Number of stores 466
Number of autocentres 240
Forecast interim profit £53m to £55m