Ikea has named a new UK and Ireland boss as Gillian Drakeford prepares to move into its worldwide franchise business.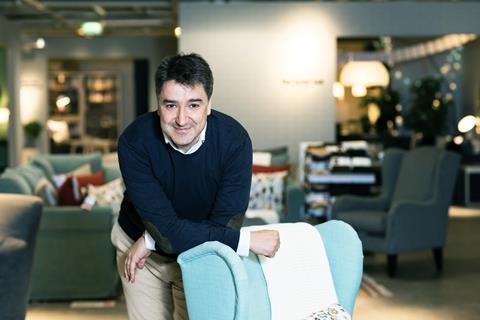 The Swedish furniture giant has appointed Javier Quiñones as its new country manager, with effect from June 1.
Quiñones joined Ikea back in 1997 and has served as deputy retail manager for the UK and Ireland for the past three years.
He succeeds Drakeford, who is joining Inter Ikea Systems – owner of the Ikea Concept and worldwide franchiser – as retail system manager.
Quiñones initially joined Ikea Badalona in Barcelona as a part-time member of staff in the self-service department.
He progressed with Ikea Spain to take up various roles, including sales manager and store manager, before joining Ikea UK and Ireland in 2014.
In his current role, Quiñones has held responsibility for sales, property, marketing, expansion, logistics and interior design.
Quiñones said: "Having already spent 20 fantastic years at Ikea, I'm excited to take my next step as country retail manager for Ikea UK and Ireland.
"I'm passionate about understanding how our customers live and want to use my role to improve life at home for people across the UK and Ireland.
"There's a huge amount of innovation and transformation in the retail industry, from experimenting with in-store experience to merging digital and physical retail.
"I'm looking forward to ensuring Ikea leads the way, and continuing the journey we've been on to date, building on Gillian's legacy."
Years of growth
Ikea's UK arm registered its sixth straight year of growth in 2017, opening new stores in Reading and Sheffield in the process.
It is also experimenting with smaller order and collection points, including a site in London's Westfield Stratford City mall.
Drakeford said: "Leading the UK and Ireland has been a great privilege and together we have had five exceptional years of growth becoming more accessible to people through the opening of three new stores and the development of new store formats, as well as strengthening our online offer.
"Javier's role has been integral to these achievements and his expertise and passion for the brand make him well-equipped to take on the role of country retail manager."