US drugstore Walgreens and UK counterpart Alliance Boots are to merge next year. Retail Week examines the deal.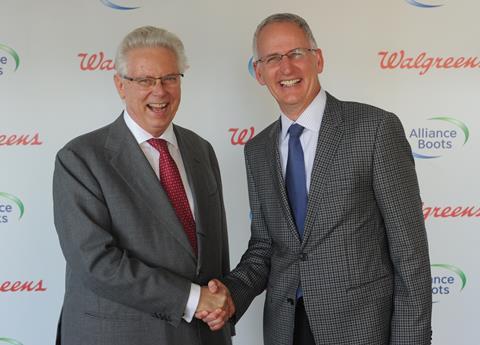 Why are we talking about it now?
US drugstore Walgreens yesterday revealed its intention to complete its merger with Alliance Boots in one of the largest deals in recent years.
Walgreens will acquire the remaining 55% stake in Alliance Boots for £5bn. The merger is scheduled to complete in February 2015 with the combined companies trading under the name Walgreens Boots Alliance.
It comes two years after Boots and Walgreens entered into a partnership in 2012, when Walgreens bought a 45% stake in Boots for $6.7bn (£4bn), valuing Alliance Boots at £10bn, at 2012 currency rates.
Why are the two companies merging?
Alliance Boots executive chairman and serial dealmaker Stefano Pessina is considered the architect of the deal, as he aims to create a global retailer and pharmaceutical wholesaler. The merger will make Walgreens Boots Alliance the largest pharmaceutical wholesaler in the world, leveraging its size to get better deals on medicines to make them more affordable to consumers. The two companies will operate 11,000 stores in 10 countries.
In its new three year 'Next Phase' strategy Walgreens Boots Alliance aims to create a differentiated retail experience which "transforms" health and wellness and the way women shop for beauty, as well as an integrated pharmacy and healthcare experience.
It is also a platform for further growth, as Pessina aims to expand its presence in China
What is the new structure?
Walgreens Boots Alliance will have a 'blended' management team made up from Walgreens and Alliance Boots leaders.
It will be headed by Walgreens president Greg Wasson, while Pessina will lead strategy and mergers and acquisitions. Well-known former Boots UK chief executive of health and beauty Alex Gourlay will become president of Walgreens, and Alliance Boots managing director of health and beauty in the UK and ROI Simon Roberts will be president of Boots.
Pessina is taking a £6bn stake in Walgreens and will control around 18% of the combined company. Walgreens is valued at $57bn (£33.8bn) on the London Stock Exchange. The size of Pessina's stake has caused some unrest among Walgreens shareholders about his potential "undue influence" over the company.
What will it mean for Boots?
Despite the merger, Boots will continue to be headquartered in Nottingham where it was founded. It will increase global awareness of Boots and its own brands such as No7, which are already being sold in a number of Walgreens and Duane Reade stores in the US. And Boots will soon be installing a new photo offer, using Walgreens technology in some stores.
Simon Roberts tells Retail Week: "There is a whole programme of work to innovate and improve the customer experience. It's a big opportunity to explore and ignite a new level of growth in Boots and make it more relevant to the customer."