Waitrose sales rose 5.2% in the week to November 22 as shoppers geared up for advent and starting Christmas shopping.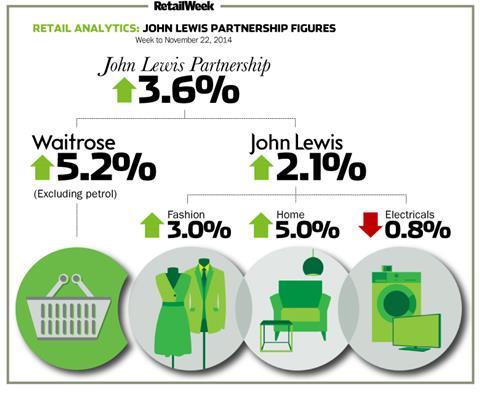 Sales excluding petrol rose 5.2% year on year, with Christmas baking ingredients fuelling the growth.
Marketing director Rupert Thomas said some products are showing double-digital growth with currants up 28%, cherries 58% and sultanas and raisins up 14%, compared to the same time last year.
Almond sales are up 35%, dark brown sugar up 8% and suet is also up 9%. Ready-made versions also performed well – Christmas cakes are up a massive 145%, while Christmas puddings sales rose by 45%. Sales of Stollen soared by 65%.
Shoppers are also buying cards, crackers and wrapping paper which saw sales rise 17%. Festive wreaths and garlands jumped 71%, while decorations, such as Christmas lights, were up 63%.
The colder weather was also evident in the grocer's sales. Compared to last year, tea is up 9%, sales of slow-cooked meats and pies are both up 50%, while sausages and beef have each had a 9% boost.