Tesco sales returned to growth for the first time since January 2014 as the grocery market grew at its fastest rate since the summer.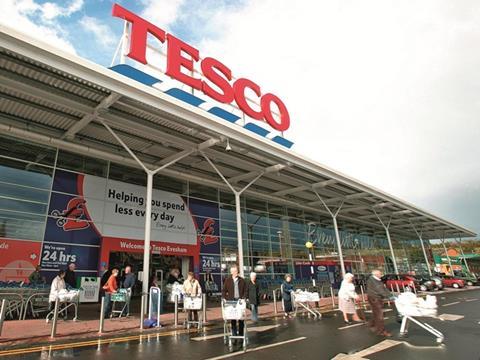 Tesco sales increased by 0.3% year-on-year for the 12 weeks to February 1 as the grocery market grew at a rate of 1.1%, the fastest increase since June 2014, according to figures from Kantar Worldpanel.
Like-for-like grocery prices across the sector fell by 1.2%, which Kantar said is equivalent of £327m in savings for British shoppers over the past three months.
Kantar's figures suggest Tesco boss Dave Lewis's overhaul of the grocer could be working as it attracted an additional 236,000 shoppers in the past three months.
However, despite the sales increase, Tesco's overall market share fell to 29%, down by 0.2 percentage points year-on-year.
Asda reclaimed its position as the second largest retailer as it grabbed 16.9% of the market after briefly being overtaken by Sainsbury's.
Both Asda and Sainsbury's recorded falling sales compared with a year ago, Asda fell by 1.7% and Sainsbury's by 1%.
Meanwhile, Morrisons sales dipped by 0.4% during the period, the best performance by the retailer since December 2013.
Discounter slowdown
Kantar Worldpanel head of retail and consumer insight Fraser McKevitt said: "Early results suggest that discounters Aldi and Lidl will find their accelerated growth levels hard to match in 2015.
"Aldi's growth of 21.2% is still impressive but a relative slowing from its 36% peak in April 2014. Likewise, Lidl's maximum growth of 24% in May last year is now down to 14.2%. Despite this slowdown, both retailers are still taking share from the other retailers – rising 0.8 percentage points and 0.4 percentage points respectively to 4.9% and 3.5%."
12 Weeks to February 2, 2014
12 Weeks to February 1, 2015
% Sale change
Sales (£m)
Market share (%)
Sales (£m)
Market share (%)
%
Total Grocers
26,936
100%
27,226
100%
1.1%
Total Multiples
26,414
98.1%
26,716
98.1%
1.1%
Tesco
7,871
29.2%
7,898
29%
0.3%
Asda
4,671
17.3%
4,591
16.9%
-1.7%
Sainsbury's
4,600
17.1%
4,557
16.7%
-1%
Morrisons
3,036
11.3%
3,025
11.1%
-0.4%
The Co-operative
1,645
6.1%
1,601
5.9%
-2.7%
Waitrose
1,321
4.9%
1,415
5.2%
7.2%
Aldi
1,108
4.1%
1,343
4.9%
21.2%
Lidl
835
3.1%
954
3.5%
14.2%
Iceland
607
2.3%
604
2.2%
-0.5%
Other Multiples
720
2.7%
730
2.7%
1.4%
Symbols & Independents
522
1.9%
509
1.9%
-2.4%