Supermarket giant Sainsbury's will unveil its full-year results tomorrow. Retail Week highlights five key areas to look out for.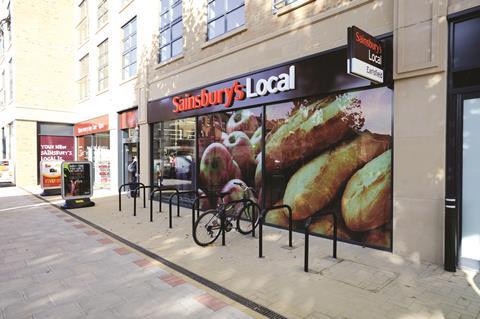 Convenience expansion
Although Sainsbury's like-for-like sales have fallen for five successive quarters, the growth in its convenience business has remained strong.
During its fourth quarter, the supermarket giant opened 23 new c-stores, taking its smaller format portfolio to more than 700 and leading to a 14% uplift in revenues across its Sainsbury's Local estate in the period.
Chief executive Mike Coupe has previously suggested that the grocer could target 1,500 convenience stores across the UK, opening around 100 per year. It's an ambitious target, and Sainsbury's is tomorrow likely to shed more light on its expansion plans for this year as it bids to edge closer to that north star.
Success of partnerships
Sainsbury's has penned a series of deals with retail partners during the financial year, most notably its tie-up with Netto which resulted in the Danish discounter's return to the UK after a four-year hiatus. The trial will result in the Netto portfolio rising to 15 by the end of the calendar year.
But since the first Netto store opened in Leeds in November last year, Sainsbury's has remained tight-lipped on the progress of the partnership.
Netto claimed it would "set new standards for discount retailing in the UK" in a tie-up intended to win back shoppers from German duo Aldi and Lidl. But Sainsbury's is yet to reveal any evidence that Netto is living up to that bold promise.
The City will also be looking at Sainsbury's other partnerships, with Argos and Jessops, for signs of progress. Like other big four grocery bosses, Mike Coupe is seeking ways to make better use of vast sheds (Jessops branches have opened in some of Sainsbury's larger stores) but has the link-up had a positive impact on sales?
Sainsbury's said 10 Argos Digital shop-in-shops were poised to open by the summer, but is yet to reveal the locations of these.
Fate of larger stores
At a time when its rivals are looking to offload some of its larger stores, Sainsbury's has so far kept faith in its superstore estate.
In its last full-year results, bosses spoke of the drive to expand the grocer's non-food offer, which it has subsequently done by increasing both the number of lines and the amount of store space dedicated to homewares, garden and its Tu clothing brand.
Speaking at Retail Week Live, Coupe insisted that the death of the supermarket was "a gross exaggeration" and believed large out-of-town shops would be where customers buy their groceries in the future.
The deals with partners such as Argos reflect that strategy, as does the development of a new scan-and-go shopping app which enables customers to complete every element of their weekly in-store shop using their mobile phone.
But will bosses retain that faith, or could Sainsbury's shed some of its underperforming sites in a bid to improve profitability?
One thing that will be revealed is the impact that the writedown in the value of its property has had on the grocer's bottom line. Some estimates predict that could even plunge Sainsbury's into its first statutory loss for a decade.
While the loss in the value of Sainsbury's property won't come close to the £4.7bn writedown reported by its big four rival Tesco last month, it took a £665m charge in the first half following writedowns on 40 existing stores and 40 planned openings.
Investment in price
Back in November Sainsbury's revealed a £150m investment in price, when it cut prices of more than 1,100 products in store.
At the grocer's fourth-quarter update in March, Coupe said that there had been an average sales increase of 3% on those products. He insisted that regular lower prices on meat, fish and poultry, which were brought in to replace multi-buy offers, had been "well received" by customers.
The City will be keen to establish two key points relating to this. Firstly, to what extent the investment in price has impacted margins, and secondly, whether Sainsbury's bosses have further price investment planned as they bid to win back customers lost to discounters Aldi and Lidl.
Coupe said in March that Sainsbury's price position had "never been stronger" but that he expected price competition to get "more intense." He claimed its balance sheet would allow the grocer to plough more money into creating lower pricers for shoppers. Could that be evidenced in tomorrow's prelims?
Commercial income
In the aftermath of Tesco's accounting scandal, which stemmed from the manner in which it paid suppliers and took monies from them, grocery retailers' commercial income has come under increasing scrutiny.
Morrisons led the way in March, saying it was "appropriate to provide new disclosure" when it revealed its commercial income total of £425m for 2014/15.
Tesco followed suit last month, stating it was embarking on a "fundamental review" to change the way it deals with suppliers and book the profits received from them. It broke its commercial income down into a number of areas after overstating profits by £263m the previous year.
As the third and final public company in the big four, all eyes will be on Sainsbury's to see if the grocer follows their lead next week.