Sainsbury's delivered a masterclass in comedy customer service this month.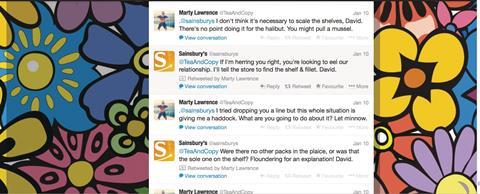 A shopper sent a jokey tweet to the grocer about a fish product not having a barcode. It kicked off a hilarious seafood pun-off between @Sainsburys and the customer, Marty Lawrence, or @TeaAndCopy. Our favourite from 'David' at Sainsbury's:
"I feel that some fin should be done to sort it trout. You shouldn't have that hassle when trying to spend a few squid." Seems like both sides had a whale of a time.