This week Morrisons added six former HMV stores to its growing convenience business. Retail Week meets the man at the centre of the expansion, Gordon Mowat.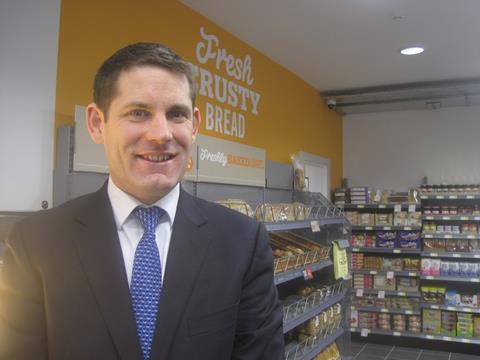 "I'm smug," admits Morrisons managing director for convenience Gordon Mowat. "I'm very happy."
Munching on a freshly made chocolate chip cookie at the grocer's newest Morrisons M Local store in Ealing, Mowat is clearly pleased with himself. In the last week, the grocer has pulled off a deal to secure 49 former Blockbuster stores which has solved his conundrum as to how to rapidly expand Morrisons' convenience offer with one swift signature.
The acquisition built on the purchase of seven Jessops stores and has since been added to by the purchase of six HMV stores. "I do not relish the fact retailers have gone into administration but the high street is changing," he says. "What I hope is that the acquisition of these 49 Blockbusters will offer local people a new option."
Mowat says that the stores have been taken on on unconditional terms but does not expect to have to divest stores unable to get permission to sell food.
The Scotsman, who has lost his accent during a life spent down south and around the globe, is satisfied he is on course to smash Morrisons' original 70-store target for 2013. Mowat was named the grocer's convenience chief in October last year after two years with the retailer.
Mowat is the grandson of John Mowat, a minister at the Scottish church where the Queen Mother used to worship, and his family can be traced back to the 17th century. The Wycombe Wanderers fan now resides in London with his three children.
He cut his teeth at global FMCG giant Proctor & Gamble where he worked across the globe including extensively in China following a stint as a door-to-door salesman in the US in Chicago and St Louis.
The University of Bath engineering and German graduate pushed the expansion of big name health and beauty products including Head and Shoulders and Old Spice. This included a stint working within Tesco in Harlow, Essex at the same time as future UK chief executive Richard Brasher.
Mowat moved to business consultancy McKinsey in 2000 to "broaden my business experience" and spent a decade devising strategy for retailers, FMCG firms and general merchandise players. The role, based in Piccadilly Circus, piqued the interest of Morrisons chief executive Dalton Philips who brought him on board as group strategy director in January 2011.
The pair devised a strategy to build-up the UK's fourth largest grocer's presence in convenience retail, redesigned its supermarkets and took its first tender steps into online retail with the purchase of Kiddicare in 2011. "I remember we delivered the Kiddicare deal over the weekend so none of our competitors could swoop in and offer a higher price," says Mowat. "Kiddicare has been fantastic for the business because it's forced us to think about online."
Mowat, a keen sportsman, is in a hurry to justify his appointment by rolling out Morrisons M Local which observers believe will restore the grocer to growth after a disappointing Christmas. "I want to open two stores a week until we have them all open by the end of the summer," says Mowat. "Well, maybe an Indian summer," he laughs.
Mowat is to tweak the convenience model as it enters the capital. From large bags of rice for local Asian communities to changing its food to go offer to optimise the space in smaller units, M Local in London will be a tailored proposition. Taking on established players including Tesco Express, Sainsbury's Local and a strong symbol group sector, Mowat has his sleeves rolled up for the task.
With London key to Morrisons South East expansion strategy, Mowat will be keen to make capital gains.