If question marks remained over whether Tesco was truly back on the front foot, a frenetic Friday has laid those doubts firmly to rest.
The UK's biggest grocery retailer has snapped up the UK's biggest food wholesaler, Booker, in a deal worth £3.7bn – subject, of course, to regulatory approval and the almost inevitable probe from the Competition and Markets Authority.
If that's not an attacking move, a shot fired, a stake in the ground from Tesco, I'm not sure what is.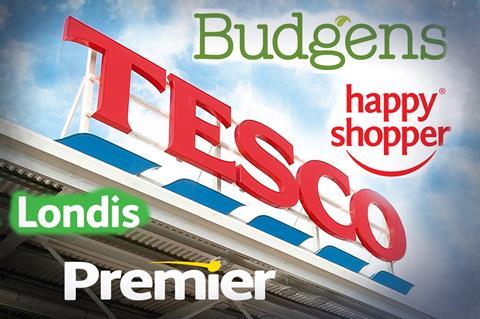 The supermarket giant has analysed the direction of travel in the food market. It has spotted an opportunity to grow its reach and revenue in the growing areas of convenience and food service.
And it has acted quickly, decisively and confidently to merge with another formidable food force.
As one analyst put it today, the move had all the hallmarks of "the Tesco of old".
Worried rivals
But should the market leader's nearest rivals be concerned?
Morrisons, of course, moved first with plans to leverage its ability as a supplier, so this deal is unlikely to knock it off its stride.
The grocer is resurrecting the Safeway brand to sell to independent convenience stores and it signed a wholesale deal with Amazon last year as it bids to take a bigger slice of the other fast-growing area in grocery, online.
Former Tesco executives David Potts and Trevor Strain will be relatively unmoved, despite their former employer's bold acquisition today.
Sainsbury's on the other hand may have more cause to look over its shoulder.
The retailer – which lies second to Tesco in terms of market share – has a huge convenience business, and Tesco and Booker's combined buying power and product expertise could pose a threat to this.
If the likes of One Stop, Budgens, Londis and Booker are able to improve the quality of the proposition and reduce prices, they could feasibly win shoppers back from Sainsbury's Local c-stores.
As for beleaguered Asda, it now has even more catching up to do.
But with a plethora of new talent in its senior leadership team and the wealth of Walmart behind it, surely it won't be long before the embattled chain's new boss Sean Clarke reveals his hand.
Tesco's move today might just encourage Clarke to lay his cards on the table sooner than planned in order to ease stakeholder jitters over Walmart's UK performance.
Symbol groups under fire
Despite such worries, those losing most sleep tonight will surely be the symbol groups – the Spars, Costcutters and Nisas of the world.
For them, the prospect of Tesco joining forces with Booker and further enhancing the propositions of its rivals Budgens, Londis and Premier, is a sobering thought.
Since acquiring the fascias from Musgrave, Booker has already vastly improved the Budgens and Londis offer.
My nearest branch on Orpington High Street is just one example of the great work that has been done, notably on improving the quality and range of own brand goods.
Throwing the might of Tesco into the mix will only allow those improvements to accelerate, while the wider store experience should receive a makeover too.
There are decisions to be made over whether the trio of fascias start to implement the Clubcard loyalty scheme, or the PayQwiq mobile payments app – both of which would attract shoppers.
In an industry where there is an awful lot of churn and lack of loyalty from independent retailers, such propositions could easily convince them to ditch Spar, Costcutter or Nisa in favour of joining forces with Tesco and Booker.
Indeed, the lure could also be enough to prompt some of the 19,000 unaffiliated independent retailers to start doing business under a Budgens, Londis, Premier or One Stop banner.
Thanks to Tesco, a hugely fragmented part of the convenience market could now be primed for consolidation.