Dairy farmers marched on Westminster to protest over the grocers' milk prices last week. Retail Week takes a look at the issue.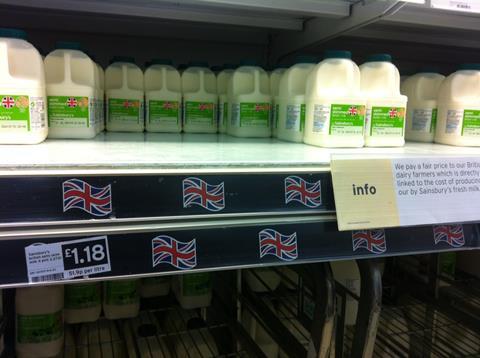 Why are we talking about this now?
Farmers are threatening to blockade Asda, The Co-operative and Morrisons stores in protest against low liquid milk prices that they claim will send them out of business. Some 2,500 dairy farmers marched on Westminster last week to complain about payments from supermarkets below cost price. Milk giant Robert Wiseman is due to make a 1.7p a litre cut in August, echoing moves by Dairy Crest, Arla and First Milk since April.
How much does milk cost?
The National Farmers' Union (NFU) estimates the cost of production is 30p a litre of milk. Tesco pays 29p a litre, Marks & Spencer and Waitrose 32p and Sainsbury's – which has put up notices in stores assuring customers it pays famers a fair price linked to the cost of production – pays 30p. Milk is traditionally an extremely competitive area for the grocers who are battling it out to win the cash of consumers whose budgets are under pressure. A consolidated milk supply industry means that competition is rife.
What have retailers said?
Retailers have come under pressure from angry customers over the plight of British dairy farmers. Morrisons responded to a surge of complaints on its Facebook page by assuring shoppers it is reviewing the situation to see if there are other payment models it can use to better support farmers. A spokesman said: "We don't engage in a postcode lottery where a few farmers are paid more than the rest." Asda yesterday said it would up the premium it pays farmers – on top of the price paid by processor Arla – from 1p per litre to 3p per litre however this was branded an "outrage" by protest group Farmers for Action. The Co-operative has added an additional 0.65p per litre, taking its premium to 2p per litre.
What next?
Pressure is mounting on Robert Wiseman to forego its planned cut while Morrisons will be under pressure to move quickly to clarify its position on the matter. The NFU have called for all retailers to at least pay the price of production. The Co-operative could be the biggest loser if protests hit stores with milk one of the key items in its convenience shoppers' baskets.