Morrisons launched a new cafe concept in its Crawley store this week, which will be rolled out to a number of its shops.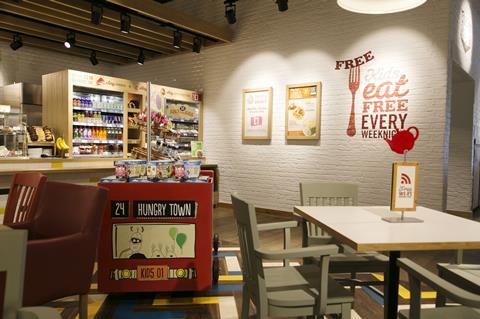 The format will be built into all new stores from September and fitted into a number of existing ones.
The grocer is investing in its cafes as it attempts to engage the 10.7 million customers who shop in its stores but don't use the cafe. It says the format produced a footfall increase of 40% within the first week when it was installed in its Ripon store.
The cafe has undergone a redesign and an overhaul of the offer. More low-calorie meal options have been added and more of the fresh ingredients used will come from Morrisons Market Street.
The grocer has rolled out a more modern décor, free wi-fi and a patisserie-style counter. Free coffee refills are also available, and the seating is now moveable to allow buggies and wheelchairs to be wheeled up to tables.
Darren Smith, Morrisons cafe customer planner, said: "The way customers use cafes has changed and we have responded to that. Today's discerning shoppers want free wi-fi, healthy meal options and an environment where they feel comfortable alone or with friends or family. The new concept builds on the formidable reputation our cafes already enjoy."