Family spending power is at its highest level since the tracker began six years ago and will continue to rise in 2015, according to economists.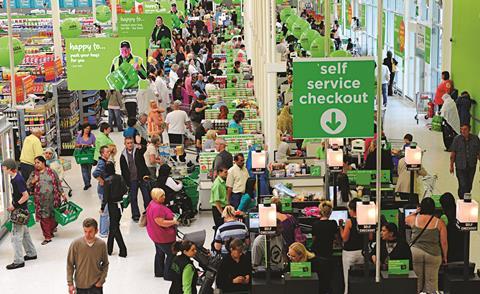 Asda's Income Tracker revealed that the average UK household had £180 a week of discretionary income in December 2014 – up £15 a month (7.7%) on the same period the previous year.
The previous record was set in October when the survey found that families had £176 a week to spend after paying taxes and essentials like rent, utilities and bills.
According to Asda, it is the highest level of discretionary income UK families have had since the grocer started the survey in January 2009.
Economists from Cebr said incomes had been boosted by falling costs of fuel, food and energy, coupled with rising wages, which allowed spending power to stretch further during the festive season.
For December the tracker recorded the average price of a litre of unleaded motor fuel as 116.3p, 10.5% lower year on year, while home heating costs were said to be down 2.1%.
Fuel prices have continued to fall markedly this month, with Asda garages now charging less than £1.04 per litre.
Many energy companies have announced further cuts in electricity and gas prices.
Grocery baskets 'compressed'
Food and drink costs also fell by 1.7% on the previous year, allowing families to send more on "treats" like days out and restaurant visits.
Asda expects that trend to continue, driven by Tesco's "extensive cut" of everyday brand prices earlier this month, which is expected to further "compress" the grocery basket.
Asda chief executive Andy Clarke said: "January is always a tough time for families as they rebalance the books after the Christmas holidays, but I'm pleased to say, with prices falling steadily at the pumps as well as at checkouts, families across all regions of the UK will have on average £15 per week more in their pockets as we enter into the New Year."
Cebr economist Sam Alderson added: "Households are currently experiencing a considerable boost to their finances from the combined effects of rapidly falling, record low inflation, rising employment, and wage growth at its fastest since the financial crisis.
"It's encouraging to see the economic tide finally turn in the favour of UK households, after a long and difficult period since the 2008/09 recession."