When Rowan Gormley took the reins at Majestic Wine, then-chair Phil Wrigley claimed the new boss had been "handed the keys to the Ferrari".
But just four years on, Gormley has deemed the time right to trade in the Majestic business and focus his time and money on doing up the group's newer model, Naked Wines.
Gormley's rationale behind the decision is clear – Naked Wines, the etailer he founded in 2008, represents the growth engine.
"There is a big opportunity in the form of Naked that requires money and management focus"

Rowan Gormley, Majestic Wine
In its last full financial year, to April 2, 2018, Majestic Wine's retail business racked up £236.8m in revenues, a 1.9% increase on the prior year. Adjusted EBIT came in at £13.3m.
At Naked, sales accelerated at the much quicker rate of 11.3% to £156.1m, as adjusted EBIT hit £8.7m.
Naked maintained that impressive growth at the half-year stage, posting an 11.6% uplift in sales in the 26 weeks to October 1, 2018 – even more impressive when set against the year-on-year comparable of a 14% uplift.
The right time
Such growth, Gormley hints, has taken the group by surprise. But now he wants to capitalise on it fully by revving up investment into the online specialist to release its full potential.
To do that, the group is embarking on a transformational shake-up, the full details of which will be revealed in June. Majestic will rebrand to Naked Wines Plc and sell a number of Majestic's stores and assets.
Majestic's share price tanked 12.2% to 237.5p yesterday, amid warnings over increased investment and a review of the dividend. But Gormley is confident its valuation will recover under his bold strategy.
"The reason why the right time to do this is now is really driven by the fact Naked is in the position where the opportunity for growth is higher than we thought it was," Gormley tells Retail Week.
"If we try to split that between Naked and Majestic, we run the risk of failing at both, rather than making a success of one."
Feeling the squeeze
But in ditching Majestic, Gormley runs the risk of losing a loyal customer base. In 2017/18, 92% of Majestic Retail's sales came from repeat customers. However, that was down from 96% the previous year.
That fall can be attributed largely to the increasingly high-quality, price-competitive proposition being delivered by discounters Aldi and Lidl, and, to a lesser extent, the big four grocers. As uncertainty surrounding Brexit continues to swirl, and with sourcing costs likely to increase, more and more cash-conscious customers could be wooed away from Majestic in the coming years.
One analyst says: "The Majestic business has not found life particularly easy for the last seven or eight years, but the currency pressures that the [Brexit] vote brought a few years ago have made life more difficult in terms of life with the supermarkets, who are much more willing to take a look at alcohol as a loss-leader."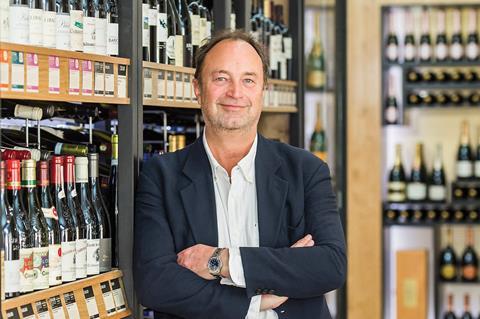 GlobalData analyst Thomas Brereton believes the risk of losing customers by selling Majestic is minimal, however, because the shopper bases of Majestic and Naked have converged since the retailers came together in 2015.
"They've said they've got two separate parts of the business, but the proposition has increasingly been moving together – and because of that they feel like the overlap is there in terms of the customer base to go on and merge those two," Brereton explains.
If grocery retailers are applying one form of pressure to Majestic, the growth of online is squeezing its business from the other side. According to Gormley, the group's online sales are currently growing at "30% plus", driven by Naked. But revenues raked in through Majestic's 200-strong store portfolio are "going backwards 3% to 4%".
"That's a trend that is gaining pace," Gormley says. "We are talking about turning that to our advantage."
Peel Hunt analyst Jonathan Pritchard sees the virtue of taking that view: "Essentially, management sees the future as almost exclusively digital – maybe there's some value in a few stores, but as showrooms."
However, Pritchard maintains "store-based retailing is not seen as the future" for the group and it is "inevitable that stores will close".
Naked ambition
Gormley, though, wants to retain a bricks-and-mortar presence for the rebranded Naked group. "We are convinced that face-to-face interaction is a good way to recruit customers," he says. Stores that the group does retain, therefore, will become a "customer recruitment channel" focused on "experiences rather than transactions".
The serial entrepreneur would not be drawn on how many locations Naked would need, but its physical repositioning will almost certainly leave a large chunk of the Majestic portfolio on the block.
Gormley is adamant the Majestic name and brand is strong enough to "live on somewhere else as part of a different operation". What, then, are his thoughts on Majestic becoming a rival?
"One way or another, Majestic exists as a business – and it's going to have an impact on us one way or another," Gormley says, taking the view that he would rather Majestic's impact be felt as a competitor, rather than a drag on Naked's progress.
"America is the territory that's going to make or break this"

Analyst
In any event, much of Naked's progress Gormley is banking on will come outside the UK. The wine market in Britain is worth £2.2bn. Naked plays in the UK, Australia and the USA – three markets with a combined value of £17bn. The US, alone, is a £14bn market.
So while the strategy makes sense on several levels, its success could hinge on one important question: can Naked Wines crack America?
"America is the territory that's going to make or break this," one analyst observes.
Around 20% of the group's sales already come through the US and Australia – a proportion that will need to increase significantly for Gormley's strategy to be deemed a triumph.
If he can achieve that, corks will be popping from Watford to Wichita.