Retail sales by value up 3.1% year-on-year in May
Online sales by value grew 21.5%
Retail sales by volume grew 6% compared with the same month last year
Fashion sales by volume grew 0.1% year-on-year in May
Retail sales shot up in May for the second consecutive month following the UK's warmer weather, latest figures from the ONS show.
Retail sales by value grew 3.1% year-on-year in May and increased 1.3% since April 2016.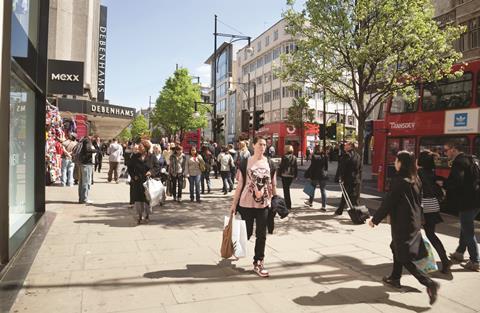 The value of sales equates to £29.2bn spent in the industry last month, compared with £28.3bn spent during the same period last year.
Fashion and footwear was the only sector to experience a year-on-year drop since May 2015, with sales by value falling 0.8%. However, sales by volume rose by an incremental but significant 0.1%.
Department stores showed particular progress with sales by value growing by 8%.
Sales online improve
Online sales by value in May also increased 6.4% since April, and by 21.5% year-on-year.
Barclays Corporate Bank head of retail and wholesale Ian Gilmartin said the recent months have been "tough" for retailers and that it's "great to now see some positive momentum".
He said: "Online sales once again showed exceptional growth and made a key contribution, but it's particularly encouraging to see stronger numbers from clothing stores.
"They have been a drag on the overall figures, so to observe slight year-on-year growth in the quantity sold in the fashion sector is very welcome news."
Retail sales by volume in May this year increased 0.9% since April 2016, and by 6% compared with the same period last year, with all store types experiencing increasing sales volumes.
Since May last year, store prices on average have fallen 2.8%, as retailers have lowered prices to drive footfall and remain competitive.
Lloyds Bank Commercial Banking retail sector managing director Keith Richardson said that the second successive month of rising sales is "welcome news for retailers".
He said: "The sun is shining and retailers, at last, are making hay.
"When it arrived, the first signs of sunshine – combined with some targeted promotions – had shoppers scurrying to buy lighter clothes, barbecues and gardening equipment.
Looking ahead
Richardson said: "Now, hope switches to the home nations' footballers to score on the high street as well, with the footballing feelgood factor long proven to make itself felt on the high street."
He adds: "Success for either England or the Republic of Ireland – who can count on a large number of fans living in the UK – will help the high street."
However, Gilmartin warns that, although May's result is excellent, "the summer season is a game of two halves".
He said: "It's now crucial for the retail sector to get its set pieces right. The remainder of the European Championships, Wimbledon next month and the Rio Olympics in August all provide opportunities for parts of the industry, who will know that they need to take the chances provided.
He added: "The ever-present variable that is the British weather will of course also play its part, and the [EU] referendum result on June 23 will undoubtedly have an impact, so it's not going to be easy to post such strong numbers in future months, especially as the underlying challenges that have made things difficult this year haven't gone away."