ScS reported an increase in sales and gross profit for its maiden interim results, but EBITDA and operating profits were down.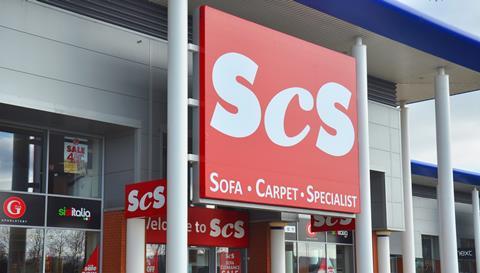 Total sales were up £16.7m (14.5%) for the half year ending January 24, thanks to sales in upholstered furniture and flooring.
ScS chief executive David Knight said the increase in sales came despite footfall remaining largely the same as the sofa specialist managed to increase conversion and the average ticket price.
Revenue from online also increased 27.6%, while the retailer also reaped benefits of a £7.3m increase from its concession store revenue within House of Fraser, which launched six months ago. Total sales order intake rose 7.8%.
Gross profit also increased 13.2% to £57.4m, but the sofa specialist also reported an operating loss of £8.7m (£3.4m during the same period last year), and an EBITDA loss of £3m (£1.3m in the first half of 2014).
ScS said the negative EBITDA was said to be normal in the half-year results, reflecting the seasonal nature of the business. The retailer said higher revenue, lower media costs and higher profits occur in the second half.
The sofa specialist noted its gross margin had been reduced by 50bps from 44% to 43.5% to reflect competitive promotions over the past six months, including a 'free carpet' offer that was to help promote its flooring business.
ScS has now captured 2.1% of the £1.7bn flooring market and Knight predicts it could double its market share in the next five years.
The retailer said: "The year-on-year movement reflects the investment in infrastructure following the launch of the House of Fraser concession and the planned year-on-year increase in media spend, with the income from orders booked during late December/January recognised in the third quarter of our financial year. Adjusted EBITDA loss for H1 of £2.7m is in line with expectations."
Knight said: "These results demonstrate the progress that has been made to develop ScS into a strong and resilient business. Our sales order intake is our best ever at this time of year and this momentum gives us good visibility for the second half. We are, therefore, confident of meeting market expectations for the full year."
ScS has opened concessions in House of Fraser to have a high street presence, but is steering clear from opening standalone stores on the high street like rival DFS.
The retailer believes there is room in the market for opening thirty new stores but is currently only opening two or three a years as it seeks to carefully manage its expansion plan.
Knight added: "The Group's cash flow dynamics and new committed bank facilities underpin the strong financial position, which will support our ambitions for future growth and deliver value for our new shareholders. To reflect this confidence, the board is today proposing a maiden interim dividend of 2.8p per share," he added.
ScS also opened three new stores in the last half year in Abbotsinch in Glasgow, Croydon and Slough, bringing its total up to 97.
Chairman Alan Smith said: "It is with great pleasure that I introduce the group's maiden interim statement as a listed company. This period has been one of huge significance for ScS, having achieved our highest levels of sales order intakes, successfully opened up concessions in 30 House of Fraser stores and, of course, completed the flotation of the Group on the stock market. The listing combined with this good set of results, which is in line with expectations and reflects the historical H2 weighting, helps position the Group well for continued future growth.
"The Group remains in a strong position to build on the progress we have made in the first half. The successful IPO in January 2015 marks a significant point in the company's development, demonstrates the strength and renewed focus that ScS now has and provides a strong platform for further growth."