Poundland's chairman has said he believes its staff should be "pleased" with Steinhoff's takeover as it offers growth opportunities.
The FTSE-100 listed retailer revealed today its board has agreed a deal with the South African retail giant, which values Poundland at £597m. Poundland's shareholders will now have to approve the 220p per share offer.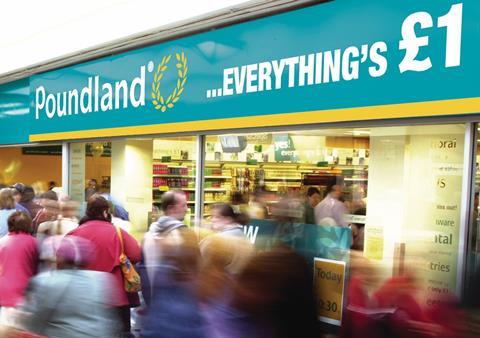 Speaking to Retail Week, Poundland chairman Darren Shapland said: "It's always a bit sad when you lose your independence. Poundland has been a successful independent company but it's going to be part of something bigger with even more growth opportunities." As a result of the deal, Poundland will delist from the London Stock Exchange.
Steinhoff, whose largest shareholder is South African billionaire Christo Wiese, has interests in the UK value sector as its Pepkor vehicle owns value fashion retailer Pep & Co and variety chain Guess How Much! Steinhoff also owns furniture chains Harveys and Bensons for Beds.
Shapland, a former chief executive of Carpetright and Sainsbury's finance chief, added: "This not a cost-saving synergy deal in any shape or form. This is about growth and I think colleagues will feel quite pleased."
He also suggested Steinhoff could use Poundland as part of its wider international footprint, which includes operations in Eastern Europe.
"It fits neatly with what they want to do," said Shapland. "It's a very important strategic purchase for them."
Shapland admitted that Poundland had been "off its game" over the past year, with challenging trading and the distraction of the 99p Stores takevover.
But he added: "Arguably with the [EU] referendum people might even look more at value."
On the future of Poundland's workforce, Shapland said that a "big part" of the board recommending the offer was ensuring that "everyone's future is safeguarded". Steinhoff said it has "no plans" to move Poundland's current West Midlands base.
Poundland's new chief executive, Kevin O'Byrne, only took over two weeks ago. Shapland admitted he did not know what O'Byrne's future might be, but said: "They (Steinhoff) have a good reputation of backing management and giving them freedom to run their businesses and I think that will be critical."
He added: "In corporate life these things happen, Kevin's a very experienced mature executive who has got some really good plans for the business and I'll think he'll make his own mind up."
However independent retail analyst Nick Bubb suggested O'Byrne will already be looking elsewhere. "We assume the new CEO…is already looking for pastures new," he said in a note.
On Shapland's own future, he told Retail Week that he will move on and "have some time to do other things". He is also non-exec chairman of Maplin, notonthehighstreet.com and Topps Tiles.