Maternity specialist likely to go beyond traditional retail skillset as it seeks Gordon's successor.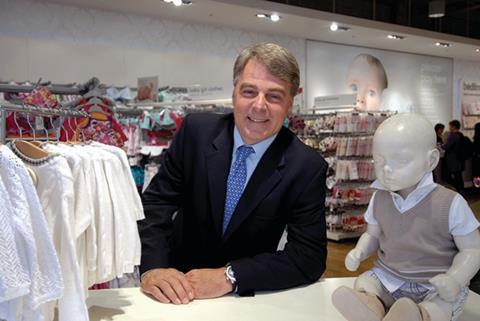 Maternity specialist Mothercare is likely to seek a new chief executive from beyond the boundaries of traditional retail to put it back on track in the UK and continue global growth.
Following news this week of the sudden departure of chief executive Ben Gordon – who will leave in mid-November – sources familiar with the thinking of Mothercare's board, led by chairman Alan Parker, said that candidates with branded consumer goods expertise are likely to lead the pack.
Mike Logue – who joined Mothercare from Asda earlier this year to run its embattled UK business – is set to play a key role in the turnaround but is unlikely to succeed Gordon as chief executive.
One source said that, despite its problems in the UK, Mothercare is best viewed as a branded consumer goods business – it owns Early Learning Centre as well as the Mothercare brand – whose products are sold through a variety of channels including franchises, online and wholesale.
Gordon himself came from a similar background, having worked at both Disney and L'Oréal.
Another source said that, although addressing problems in the UK is vital, Parker believes that focus on the Mothercare brand – including wholesale and franchising opportunities in particular – still offers great untapped potential.
International director Jerry Cull is expected to play a pivotal part. Parker also wants faster progress on digital operations.
Oriel Securities analyst Ben Hunt said Mothercare, which this year celebrates its 50th Anniversary, needs to shut more unprofitable space on top of 110 store closures already planned.
However, Peel Hunt analyst John Stevenson believes Mothercare's problem is more fundamental than an overgrown store portfolio.
He said: "It hasn't got its product offer right and it isn't competing on price with online and supermarkets. 90% of pregnant women go into a Mothercare store but it's not converting that huge footfall into sales."
Stevenson said that Logue is well placed to reposition Mothercare's UK business because of his supermarket background.
Both analysts said that Mothercare risks jeopardising its overseas growth if the UK business is not repaired, because its international operations are built on the strength of its UK brand.
Gordon will leave the retailer when it issues interim results next month, having spent almost nine years in charge. He was originally parachuted in to get Mothercare out of a mire after several profit warnings, and won praise for the improvements he made.
However, as tough domestic trading conditions bit, Mothercare has again been forced to issue profit warnings, three times in the last year.
In the most recent, last week, the retailer posted a 9.6% UK like-for-like decline over the 12 weeks to October 1 and said consumer confidence had fallen off a cliff in the last four weeks. International retail sales climbed 17%, however.
Mothercare has 1,322 shops in 55 countries, but the UK is the motor of the business so difficulties at home have hit the retailer hard.
The Gordon years
2002 Gordon joins as chief executive
2003/4 Mothercare posts profits substantially ahead of projections
2004/5 UK sales exceed £400m for the first time since 1999/2000
June 2007 Mothercare acquires 300 store chain Early Learning Centre for £85m
November 2009 A UK property restructure is announced
February 2010 Mothercare launches a clothing range in Boots
July 2010 Mothercare buys the Blooming Marvellous brand
October 2010 International sales overtake UK revenue. It acquires 25% of Australian franchisee Headline Group
December 2010 Mothercare says it expects to double international network sales to £1bn by 2014
May 2011 Outlines plans to close 110 UK stores over the next two years
Last week The retailer issues a profit warning, its third of the year
Tuesday Gordon's departure is announced
Click the following for more on Mothercare