Dutch retailer Hema has successful stores across Europe. As the variety retailer aims to take on the value players, can it crack the UK?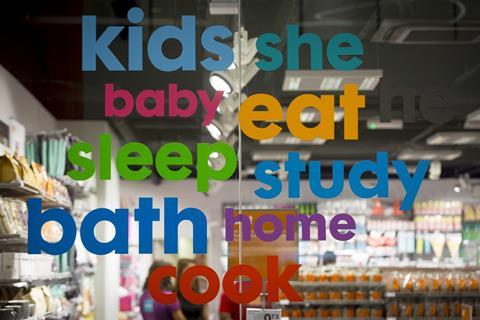 Hema plucked up some Dutch courage to launch in the UK last week in another sign that value retailers still see plenty of opportunity in this country.
The arrival of the newcomer from the Netherlands coincided with value group B&M Bargains' IPO, which propelled the UK value retailer into the listed big league with a £2.7bn valuation.
But the ferocity of competition in UK value retail did not deter Hema from opening its first store in the Victoria Place shopping centre at London Victoria train station, a launchpad from which it hopes to conquer the UK with its stylish "Scandinavian-look" stores and keen prices.
"The UK market is very competitive," acknowledges Hema chief executive Ronald van Zetten. "I have a lot of respect for all the retailers in this market but our offer has a few things to add to it.
"Our prices are very reasonable, we are very on-trend and we have different products we make ourselves and that's why people like us."
Hema believes it differentiates itself as a result of its commitment to "amazing value", convenience, a good customer experience and sustainable ethical products.
So after taking Hema to Belgium, Germany, France, Luxembourg and most recently Spain in April, Hema aims to take a slice of the value market by offering customers a very different experience from the pound shops that have frequently become synonymous with value.
Hema will start with three stores, with openings in Kingston in southwest London and Bromley in southeast London in the next few weeks.
"Growth will be gradual in the same way as we did it in France, with four stores and then 10 stores," explains van Zetten.
But it comes at a busy time in the value sector. Following B&M's IPO, which valued it ahead of retailers such as Home Retail, Dixons and Ocado, the 373-store retailer aims to grow its UK store estate to almost 900 in the long term. Its EBITDA surged 24% to £130m in the year to March 29, and sales surged 28% to £1.27bn.
Poundland also listed on the stock exchange this year, valuing it at £750m. It intends to double its UK estate to 1,000 branches and is poised to launch in Spain with its Dealz fascia. Poundland's sales surged 13.3% to £997.8m in the last financial year.
And that's without mentioning 99p Stores, Poundstretcher, Poundworld, Home Bargains and Wilko.
But although Hema is new to the UK, it has built up a loyal following in Europe. About 5 million customers shop at Hema each week.
That helped the retailer generate turnover of e1.1bn (£878.4m) in 2013, although this was a 3.6% fall on the previous 52-week period.
It also recorded a loss of e16.5m (£13.2m) against a profit of e5.8m (£4.6m) the prior year as it made interest payments on its debt. EBITDA was e119m (£95m) in 2013.
Van Zetten says: "When I look at a pound shop it is a bargain-hunting exercise when sometimes you will find new products. But we have a different range and it is a consistent offer in whatever we do."
Van Zetten believes Hema's products, all of which are own-brand, will set it apart, along with its smart and stylish stores, unlike the pound shops. Hema's offer might in some ways be more comparable to the homewares offers of low-price operators Ikea and Tiger than those of the pound shops.
Around 70% of Hema products are made in Europe. Its logistics centre is based in Utrecht and processes about 250 million products every year.
A loyal following
"At Hema, customers like the design," says van Zetten. "We have low prices because we have such a good relationship with strategic suppliers. We go back 40 years and we put large volume orders in every year, so we have
loyal suppliers."
He maintains that Hema's multi-price stance gives it flexibility to offer customer products such as make-up for less than a pound – although its average product price is £3.
Hema is highly regarded and trusted in the Netherlands, having served customers for 88 years. It is known for its customer service standards, accepting any returns if a customer isn't happy, and it tests all its products before they are sold – checking mugs don't chip if they fall on the floor, for example.
It also has beauty assistants stationed in its beauty aisles – including in UK stores – unlike most value retailers.
Entrepreneurs Arthur Isaac and Leo Meyer opened the first Hema store in Amsterdam to cater for people of limited means.
Hema now operates 538 stores in the Netherlands and employs 10,000 people across various formats: smaller local stores; mid-sized city stores; large flagship stores in large cities; high traffic convenience models in transport hubs; and a standalone beauty format. There are only three of the latter at present, two in the Netherlands and one in Paris. It is also present on university campuses.
Because of its variety of models, Hema is piloting its flagship format in Kingston, its tried and tested high-traffic format in Victoria and a shopping centre store in Bromley's Intu centre.
Van Zetten says Hema is opening stores cautiously after learning from previous mistakes when it has not always adapted the store format to the country.
"Ten to 20 years ago the stores would have been totally different," he says. "We didn't have the insight to inform our format. We now trade in many markets and we have figured out how to tell the story. There's a big difference [between different locations].
"It started after a learning experience in France. The first time we took the full concept there they didn't get it because it was the same as it was in Belgium and Germany. It took years to figure it out."
Hema opened in Belgium in 1984, Germany in 2002 and Luxembourg in 2006. It launched in France in 2009 and now has 34 stores there.
Hema has tailored its UK offer around its home and garden, beauty, snack food, kids and fashion accessories offers. It will not be selling its popular bras, babygrows or smoked sausages in UK stores.
Van Zetten said its fresh food offer exists mainly in the Netherlands, where pastries and food are delivered to stores daily. "Having it in the UK would be too complex for now. We want to keep operations simple and see how it goes," he says.
In total Hema has more than 650 stores. It also has a website and plans to open transactional sites in Germany, Spain and the UK this year.
Van Zetten describes himself as a "straightforward" manager. "I have a strong drive to get things done," he says.
It seems he is ready for the challenge as he aims to bring Hema's brand essence to the UK in a way that, to quote Hema's mission statement, "makes the ordinary extraordinary".
In pictures: Dutch giant Hema unveils first UK store
1

2

Currently reading

Analysis: Can Hema conquer the UK with value and design?

3

4

5