Macintosh Fashion has appointed BNP Paribas and KPMG as advisors to find a buyer for its Jones Bootmaker and Brantano fascias.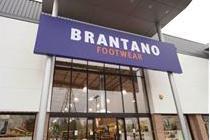 The footwear retailers' Dutch parent company has brought in BNP Paribas as merger and acquisition advisor and KPMG to prepare vendor due-diligence.
Macintosh said it expects the sale process to take between six and nine months to complete, and Jones Bootmaker and Brantano will be sold together.
Managing director of Macintosh Fashion UK David Short said: "We have engaged first-class partners to facilitate the sale and I am confident that the process will bring numerous potential buyers forward.
"We have already had enquiries from a number of interested parties and, despite ill-informed observations to the contrary, the interest is in our total business not its individual parts.
"We are keeping all stakeholders fully informed at each stage of the sale process. It continues to be business as usual in all other respects and I am pleased to report that we have enjoyed very robust sales in recent weeks. Everyone is fully focused on ensuring that we continue to build on the good progress made in both businesses in 2014."
Jones Bootmaker and Brantano have 170 and 120 stores and concessions across the UK respectively, with 3,500 employees.