Brantano UK narrowed its operating losses and sister retailer Jones Bootmaker increased operating profit as the footwear specialists eye expansion through concessions.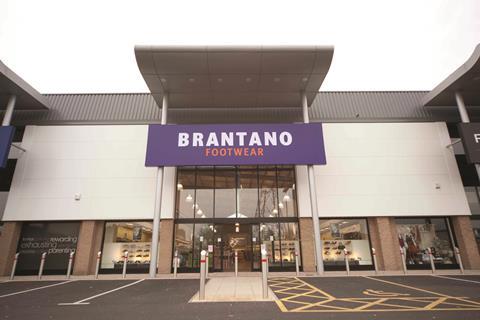 The Macintosh Retail Group-owned retailers have signed for 17 concessions in Beales, ranging from 1,000 sq ft to 2,000 sq ft, as they aim to plug gaps in UK coverage through department stores.
Brantano will take 12 areas, replacing Barratts, while Jones will occupy five formerly taken by Jane Shilton. They will launch on the Beales website later this year.
Jones piloted two concessions at House of Fraser that opened last year. It is eyeing more department store concessions and has signed for four in Associated Independent Stores member retailers.
David Short, managing director of Macintosh Fashion UK, said: "The concessions will give us exposure to Brantano customers in locations where either there is no suitable out-of-town retail park or where the conurbation size would not justify a full-range store."
Macintosh is closing shops that it believes do not fit "with tomorrow's market" as online shopping grows. Short said it is opening more shops than it is closing in the UK and believes 149-store Brantano can reach 180 stores and 109-store Jones can grow to 130 shops.
Brantano UK sales rose 1.9% to £98m in the year to December 31, 2012 and operating losses fell from £3m to £668,000. However, after a provision for loss-making stores was deducted, losses hit £6.9m.
Jones sales for the 11 months to December 31, 2012 fell 5.1% against the 12 months to January 28, 2012. Profit rose from £260,000 to £2.3m but losses hit £3.6m when the provision was taken into account.