The John Lewis Partnership has unveiled an increase in sales, thanks to shoppers buying last-minute gifts for Mother's Day.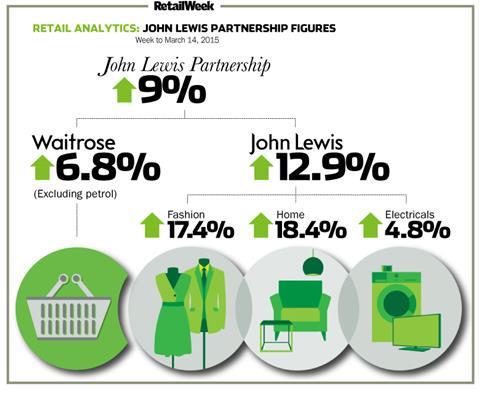 John Lewis reported sales growth of 12.9% for its week ending March 14, compared with last year. But the retailer pointed out that year-on-year sales are difficult to compare as Mother's Day fell earlier this year than in 2014.
Growth from Johnlewis.com increased by 23.2%, as customers used the click-and-collect service to pick up their Mother's Day gifts.
Homewares reported an increase of 18.4%, while fashion rose 17.4%. Beauty products and women's accessories also had a good week, with handbags being chosen as popular gifts for mums.
Waitrose was also boosted by Mother's Day with sales up 7% on last year. Shoppers bought their mums pamper presents, with bath and body gifts and premium toiletries up 54% and 56% respectively on last year, while sparkling wine increased 13%, pre-packed cake by 12% and desserts by 16%.
Unsurprisingly, Waitrose had an increase of 12% on Mother's Day cards and 25% in bunches of flowers, and 34% in houseplants.
The retailers also points to the Six Nations rugby and Australian Grand Prix for its increase in frozen ready meals by 8%.
Shoppers are already buying hot cross buns with sales rising 30%.