The suit retailer has pulled its socks up in recent years, and there is still plenty of growing room.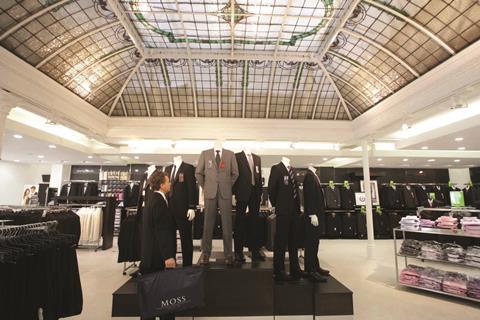 Moss Bros has become synonymous with sharp suits during its 163 years in business, but the company has had to iron out some creases in recent years.
After addressing the core elements of a turnaround plan first unveiled in 2011, the menswear retailer has started to polish up its cufflinks in an effort to achieve significant growth.
Under the leadership of chief executive Brian Brick, the suit specialist has simplified its operations and set its sights on becoming an omnichannel retailer.
A significant component of this transition was the disposal of its Hugo Boss and Cecil Gee stores in 2011. The 15-store franchised estate of German luxury brand Hugo Boss was sold for £16.5m in February, quickly followed by a £1.7m deal to sell eight Cecil Gee shops to JD Sports the following June.
The deals cleared debt and Moss Bros started to invest in the redevelopment of existing stores.
The initiatives followed a difficult period for the retailer. In 2008 it slipped into the red as the recession hit both retail and the corporate events market, which knocked its important hire business. Brick took over from former chief executive Philip Mountford in the same year.
Moss Bros remained loss-making until last year, hitting its lowest point in the year ended January 2009, when it made a £9.3m pre-tax loss. However, it pulled back into profit in its year ended January 2012, a year earlier than forecast, notching up a £900,000 profit on sales of £101.2m.
The first signs of its turnaround, which was followed by further improved profits last year, came after a decade of considerable change for Moss Bros. In the early 2000s the retailer, which at the time had almost 200 stores, integrated its acquisition of The Brand Centre and ditched a number of fascias, including The Suit Company, Blazer and Code.
The business now has 135 shops, consisting of Moss, Savoy Taylors Guild - its upmarket menswear offer - and 34 outlet shops.
Moss Bros has taken action to redevelop its physical proposition in recent years through the revamp of a clutch of stores and the development of a new service, Moss Bespoke, which offers tailored suits from a trial store in the City.
In 2011, the retailer tried out a new store format, comprising hire, retail and bespoke services under one roof. Elements have been rolled out to 14 stores. A further 21 are planned this year and the new approach will feature in 90 shops in the next five years.
The format will be complemented by a stronger emphasis on online retail under the stewardship of recently appointed ecommerce director Neil Samson.
The specialist relaunched its website in January this year and click-and-collect, which launched simultaneously, already accounts for 20% of online sales.
Moss Bros will launch a transactional site for its hire business in the second half of the year. However, online sales account for just 2% of total turnover, so there remains work to be done in this area.
Interim marketing director Jemima Bird, who was appointed in February, is working with Brick to develop customer insight and a clearer brand proposition.
Like many fashion retailers, Moss Bros has been affected by the recent cold weather. It said last month like-for-like gross profit fell 2.4% in the seven weeks to March 16 as snow and freezing weather impacted sales as summer lines arrived in store.
Retail Week Knowledge Bank says: "While management has stated that it is confident of meeting market expectations in 2013/14, it is certainly the case that the UK economy remains weak with no material improvement expected in the short term.
"Management will therefore be mindful of avoiding a repeat of the company's poor performance in the aftermath of the global financial crisis from 2008 onwards."
If Moss Bros is to stay on track and continue to be profitable, it will have to makes sure that it's suited and booted for the challenge.
Suited and booted
Turnover £104.6m in year to January 26
Profits £3.1m in year to January 26
Chief executive Brian Brick
Chairman Debbie Hewitt
Substantial shareholders Include Laura Ashley, SFM UK Management and Legal & General Group
Number of outlets 135