H&M last week confirmed it had hired former Cambridge Analytica whistleblower Christopher Wylie. Is it a masterstroke or a PR ploy?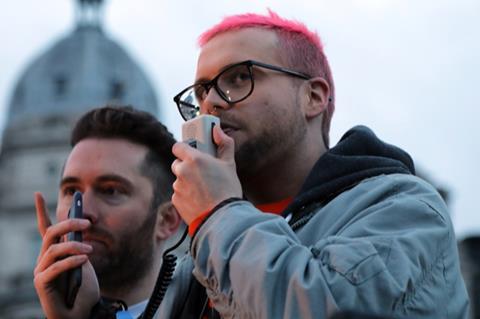 Last week, H&M unveiled its financial results for the year ending November 30, 2018. Pre-tax profits for the year were down 21%, while profits for the fourth quarter of last year fell 10%. It was the sixth straight financial quarter in which the global fashion retailer has registered a pre-tax profits loss.
On the same day its financials were published, H&M also confirmed it had taken on the Cambridge Analytica whistleblower Christopher Wylie as a research director on a consultancy basis in December.
The appointment caused ripples in both the retail and data analysis sectors, and has sent media organisations on both sides of the Atlantic (and both sides of the political divide) into overdrive.
Who is Christopher Wylie?
In a statement, the retailer said Wylie would be employed "to help H&M Group improve its capabilities within consumer, product and market insights", as well as to support "work on sustainable and ethical artificial intelligence".
Speaking at his unveiling in Sweden last week, Wylie himself said: "If you better understand what people like to wear, and how they like to wear it, and how they want to feel when they're wearing it, you'll naturally start to create insights as to modernising and updating your collection."
Wylie came to prominence in early 2018 when he blew the whistle on the misuse of data by his former employer Cambridge Analytica
He will be responsible for delving into the data of the 30 million-plus H&M Club members. The H&M hierarchy hopes Wylie's analysis can be used to avoid a repeat of the situation it found itself in mid-2018, when a 7% increase in stock saw it go into a frenzy of discounting which, in turn, led to plummeting profits.
The 29-year-old Canadian came to prominence in early 2018 when he blew the whistle on the misuse of data by his former employer Cambridge Analytica. While there, Wylie devised a method to harvest the personal information of Facebook users to create political and psychological profiles.
This information was then used by Cambridge Analytica and the Trump campaign to target voters ahead of the 2016 presidential election. The technique was subsequently utilised during the EU Referendum.
Prior to working in political data analysis, Wylie was enrolled in a PhD in fashion trend forecasting at University of the Arts London.
Since the Cambridge Analytica scandal hit the headlines, Wylie has been increasingly critical of the fashion industry's use of personal data.
Inspired or unnecessary?
For Miya Knights, head of industry insight at marketing technology company Eagle Eye, Wylie's fashion background and customer data analysis experience means "he's well suited" to his new role at H&M. However, she doesn't discount the fact that it's a "politically savvy" appointment on behalf of the retailer too.
"They clearly want to use his appointment to demonstrate that they're very curious about their use of customer data, but also about the ethical use of customer data," she says.
Knights believes Wylie's appointment also taps into a wider narrative around the use and misuse of personal data.
Retail businesses have become increasingly aware of how important and valuable that segmented data can be, but so have their customers.
"Christopher Wylie's a very bright person and it's a very forward-thinking move by H&M"

Moira Beningson, MBS Group
She also believes appointing an activist like Wylie is part of H&M positioning itself as an "ethical" fashion brand.
"This is a continuation of the trend from last year," she says. "Which is that retailers feel that they have to be seen to have a purpose and this fits very nicely into that ethical branding they've been pushing."
Moira Beningson, founder of headhunting firm MBS Group, agrees. She believes Wylie's appointment is a "genius" move by H&M.
She says as a brand, H&M has always been "quite forward thinking, pretty out there and sometimes a bit outrageous", and Wylie fits into this aesthetic.
"Christopher Wylie's a very bright person and it's a very forward-thinking move by H&M. He's on the zeitgeist of analytics and data. He's also young and he speaks with equal alacrity about things like music and fashion as he does about data. I think it's a quite genius idea," she adds.
Can big data turn H&M around?
Branding aside, the nuts and bolts of Wylie's role will be to try and turn around the retail giant's flagging profits. H&M has made no secret of the fact it views the use of big data and customer segmentation as key drivers in achieving that goal.
Wylie's appointment fits clearly into this, but is he the right person to achieve it?
"H&M is trying to spin far too many plates at the same time"

Richard Hyman
Industry strategy adviser Richard Hyman is sceptical. He believes any problems the retailer is currently facing are down to the fact that H&M has overstretched itself in the past few years trying to keep up with the range of formats offered by Zara-owner Inditex. For Hyman, H&M simply needs to return its focus to its core business.
"H&M has launched lots of new formats in a very short space of time and I think they've taken their eye off the ball. The core business must be the be all and end all. H&M is trying to spin far too many plates at the same time."
For Hyman, everything else, including the appointment of Wylie and his responsibilities around big data and AI, effectively amount to H&M trying "to look busy".
"We're living in an age where so many retail businesses are focusing too much on the periphery of retail trading, because they really don't like what they see when they focus on the core of retail trading," he says. "Look busy, because the market wants you to look busy."
However, Knights says it's not so much a question of whether Wylie can turn the ship around, as what the senior executive team at H&M are going to do with the information he provides.
"His role will be about making the insight that can be garnered from the data of who is shipping with H&M available to the wider business. That means the customer data will need to be looked at through different lenses by different lines of the business. Merchandising, buying, ranging, logistics, all of those things.
"From what I've read from his interviews, he believes all of those things should be led by a more customer-informed offer. That's essentially his role, but he can only give them that information. What they choose to do with it is a different matter," she says.
Customer data, and understanding that data, is becoming an increasingly valuable commodity for H&M. But there are plenty of data analysts out there who haven't achieved global fame for exposing their former employer and calling into question the legitimacy of a presidential election and the result of a national referendum.
Wylie may fit the H&M aesthetic, but whether he can revive its fortunes is a different matter.