Fashion retailer SuperGroup has said it is on track to meet its profit guidance of between £60m and £65m for its latest financial year.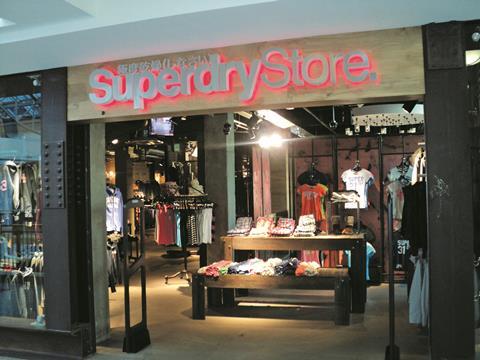 SuperGroup on track to meet full-year profit guidance of £60m to £65m
Group revenues up 18.4% for its fourth quarter, while full-year revenues rise 12.5%
Continues search for joint venture partner for Chinese expansion
The fashion retailer posted total group revenues of £134.8m for the fourth quarter of 2015, an increase of 18.4% from the same period in 2014. Full-year 2015 group revenues hit £484.7m, up 12.5% from £420.9m in 2014.
Group sales were driven primarily by strong growth in its retail division, which rose 20.6% in the fourth quarter to £76m. Over the year, retail grew 16.7% to £332.8m.
Chief executive Euan Sutherland said: "We're on course to meet our financial expectations for the year delivering an underlying profit before tax, between our profit guidance range of £60m to £65m," he said. "As an indication of our progress during the second half, our profits have been mid-point of this range."
He added: "We've closed the year in better shape."
International
In March, the retailer bought itself out of its US distribution licence for £22.3m, giving it exclusive rights to sell products in North America.
Sutherland also said the retailer was looking for a Chinese partner which it hopes to find over the current financial year. "This remains on our radar," he said, noting that Chinese expansion would be likely to be through a joint venture.
"We want to take advantage of that territory, but we don't want to stretch the bandwidth of the team here. Also, there's the complexity of entering the Chinese market so we understand and respect that."
Executive team
Referring to the recent shuffles in the management team Sutherland said he was feeling "pretty positive," but there was still "a lot to do".
The retailer lost its chief financial officer Shaun Wills earlier this year after he was declared personally bankrupt, despite the ruling later being annulled. The retailer's chief operating officer Suzanne Given stepped down in February.
"The team are very focused, we're pleased with the quarter four output in terms of retail and wholesale, and Nick [Wharton, interim finance chief] is working really well. We're working through a process with the board and we hope to update in July," Sutherland said.