Despite consumer belts tightening and rising commodity prices, middle-market retailers are capitalising on the climate with flexible price architecture and brand recognition. George MacDonald reports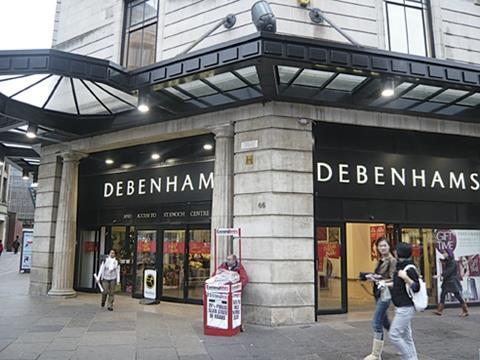 Labour leader Ed Miliband may talk about the "squeezed middle" but while that may be true of consumers, perhaps it's not an accurate way of describing prominent middle-market retailers.
While there is no doubt that shoppers' disposable income is under pressure and value retailers including Aldi and Primark continue to grow apace, so do mid-positioned store groups - and even in straitened times some are extending their appeal.
In the week that discount department store group TJ Hughes went into administration and as Life & Style languished there - both companies that might have been expected to have thrived as consumers sought value - middle-market player Debenhams reiterated that it would meet profit targets and posted rising like-for-likes.
Next week bellwether retailer Marks & Spencer issues quarterly figures and in August rival Next will update. They may well also hold their own while others are buffeted. One mid-market chief executive says: "I wouldn't be surprised to see the middle market coming out with some good figures."
Of course the size and heritage gives such big names a tailwind as weaker groups perish, even when any regional variations in consumers' willingness to spend kicks in.
"They'll still be among the best performers because they end up becoming the default retailers and pick up a lot of the slack," says Shore Capital analyst Ramona Tipnis.
But there is more to their success than that, as Tipnis would also be the first to admit. They have frequently proved themselves adept at delivering customer value, even against low price competitors, leveraging their business models and innovating.
Room to manoeuvre
As commodity prices rose, the middle market was able to react to the new reality and to shift emphasis where necessary.
Their price architecture such as good, better and best, or mix of own-brand and other product, meant they could maintain key entry price points while shifting prices up elsewhere in-store or in particular categories.
Peel Hunt analyst John Stevenson observes: "That was an option closed to the weaker among the value players, whose whole customer proposition was based on cheap prices.
"At the value end it's been much harder to get price inflation to stick. If your USP is your price you've got nowhere to go.Further up the ranges there's been no problem."
BDO head of retail Don Williams agrees: "If you've got low prices and underlying cost increases you haven't got a lot of margin to play with. On a £20 to £40 product a £1 increase can be covered, and you can get more value engineered into your product."
And that extra value provided by retailers such as Debenhams and M&S has keyed into the customer mood. Additional design detail or similar enhancements have given consumers a reason - and perhaps an excuse - to spend.
Williams says: "Consumers as a whole have become more discerning and cautious. They're probably saying: 'I'd rather have something that lasts and is properly put together, and I'd rather have one of those than three that are going to fall apart'." It is a trend that M&S chief executive Marc Bolland has reported previously.
The provision of added value is just one example of the innovation that middle-market retailers are achieving. At Debenhams, much of the improvement has come as a result of the development of its own-bought ranges such as Principles by Ben de Lisi and H! by Henry Holland - sales of which are up 70% and 40% respectively.
The ranges bring the benefits of exclusivity and style, along with margin benefits. Admittedly Debenhams chose to invest some of the margin in driving top-line sales - more than some analysts had expected - but the impact on full-year margin will nevertheless be "broadly neutral".
Michael Sharp, Debenhams chief executive in waiting, said last week the retailer's overall performance is ahead of many rivals. He did not see Debenhams' 1.5% like-for-like sales advance in the second half as a sign of respite for the market generally. "The market continues to be tough," he said. "It's a clear demonstration that Debenhams' strategy is working."
Sharp was at pains to point out that Debenhams is continuing to open stores - three so far in the year to date - and, importantly, refit existing ones as it seeks to improve customers' experience. There have been five refits this year so far, another six are in progress and there will be 20 next year.
Staying relevant
Williams believes that such initiatives - and M&S is also overhauling stores to make them more relevant and appealing to shoppers - do make a difference in the current climate, particularly when combined with good service standards.
Consumers, he believes, are saying to retailers "excite me, make it a nice place to shop".
It is not just the middle market fashion retailers that are undertaking such initiatives. DIY market leader Kingfisher, owner of B&Q, is too says Tipnis. Enticing product such as easy-to-fit showers and tiles, or in-store classes, are among the ways in which Kingfisher is enhancing its consumer appeal.
There is no doubt that the middle market has also benefited from the weakness of some rivals. Despite its value credentials TJ Hughes had been on the slide for some time - its sale earlier this year to turnaround private equity specialist Endless was a sign that radical surgery was needed, although ultimately it failed.
Others, such as Jane Norman, were lumbered with debt and effectively under the control of a large number of lenders with disparate interests. "Some of them have been leveraged up to the eyeballs," says Stevenson. "If you've got debt at those sort of multiples against EBITDA it's not surprising they're folding."
And although big-ticket categories such as furniture are hard for specialists at present, they are providing opportunity for generalists such as Next and M&S, which are increasing the number of homewares stores and introducing a range by Sir Terence Conran respectively as part of their wide-ranging offers.
Protect and serve
But the middle market cannot afford to be complacent. As Williams points out as well as the established incumbents with market share to protect, there is a new generation of competitors on the rise such as Cath Kidston and The White Company, which are extending their appeal to consumers.
And while Stevenson takes the view that companies such as Next and M&S are likely to do well as a result of their established power and position, he takes the view that UK retail should no longer be seen as a homogenous whole. Instead, he maintains, businesses have to be assessed individually or by characteristics such as self-help potential.
On the latter basis he agrees that middle-market retailers such as Debenhams do also represent opportunity because of their self-help options, also clear at Kingfisher under chief executive Ian Cheshire's improvement strategy.
There is one other factor likely always to help the middle market - the fact that so many consumers, squeezed or otherwise, fall into that categorisation.
While the incomes of some are so squeezed that they need to seek out the lowest prices, and even more traditionally upscale shoppers are perfectly willing to pop into Poundland or 99p Stores for a bargain, the middle is where the great battles for market position are typically fought out.
In those circumstances effective execution comes into its own - and the signs are that middle market retailers have the capabilities to step up to the plate.
Embracing Multichannel
After a slow start in some cases, middle-market retailers have been among the most enthusiastic and successful adopters of multichannel opportunity.
It's a way of selling not available to some value specialists, whose low tickets make it difficult to develop a profitable online model, but is becoming increasingly important to the traditional high street warhorses.
Last week Debenhams reported that there have been 500,000 download of its iPhone app so far and sales of more than £1m have been generated so far.
The retailer is also rolling out self-service customer order points to its stores, which are expected to benefit smaller shops in particular by bolstering the range available in-store. Chief executive Rob Templeman says that the intention is to"develop a seamless multichannel business".
Next of course, with its Directory catalogue heritage, has also been a big beneficiary of consumers' increasing willingness to use and demand for multichannel options.
Peel Hunt analyst John Stevenson said in a recent note that Next's combination of shops and Directory gives it a powerful advantage: "Ignoring analysis of how the two businesses knit together and subsidise each other, the high level of multichannel sales, without the burden of high fixed operating costs, provides Next with a much greater level of flexibility and downside protection relative to its peers."
Marks & Spencer, after being a late entrant into the field, has increased multichannel sales significantly over the last few years and chief executive Marc Bolland sees plenty more to come.
He has set a target of growth in multichannel sales by between £300m and £500m by 2013/14, poached Laura Wade-Gery from Tesco to oversee the push and intends to expand internationally following a bricks-and-clicks model.
At the time of the dotcom boom, it was feared the new breed of online retailers might signal death for the established middle market as prices were pushed lower. That hasn't happened. In fact middle market retailers are increasingly replicating their high steet power online - John Lewis being the obvious example.