Updated: Branded fashion retailer Envy has collapsed into administration, with Leonard Curtis appointed administrators.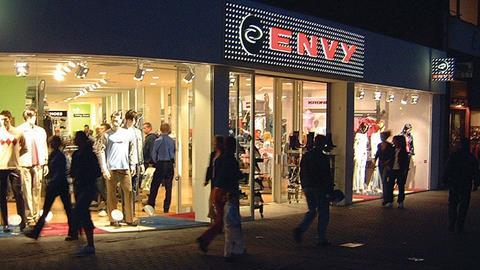 Leonard Curtis' Neil Bennett and Michael Healy have today been appointed joint administrators to the retailer.
Eight stores have been closed by Leonard Curtis, leaving 10 still trading.
The retailer filed an intention to appoint an administrator last month.
In March Envy was sold for an undisclosed sum by John Kinnaird to a consortium of private equity investors including the boss of SKG Capital, Chris Althorp-Gormlay.
For the year to January 2010 the business achieved a turnover of £27.2m.
Bennett said: "This is a business that operates in an area that has been badly affected by the credit crunch. As a result it has had a rather chequered career in the recent past. On our appointment we have closed the slower performing stores in order to sharpen up the operation. In the light of an apparently improving economic climate, we are retaining the remaining 10 stores while we look for a solution for the business."
Bennett said Leonard Curtis was "looking to see if a buyer can be found. This is a mid-market retailer with some very good brands and we hope to be able to secure a positive outcome".