The fashion retailer's revenue increased 55%
US sales skyrocketed 230%
UK sales rose 31%
Boohoo recorded a leap in its third-quarter sales as the fashion etailer attributed growth to its broadened range and US operations.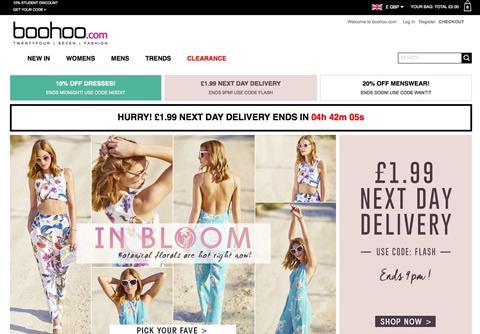 The online retailer posted a 55% rise in revenue year-on-year to £114.2m in the four months to December 31, driven by a 230% leap in sales across its US division to £19.6m.
Sales in the UK were up 31% to £65m, and 63% to £13.9m across the rest of Europe, while the etailer's active customer base increased 31% to 5.1 million.
As a result of strong Black Friday and Christmas sales across all regions, Boohoo has increased its revenue growth expectations to between 43% and 45% for the full-year to February, up from the previous expectation of 38% to 42%.
Growth strategy
The fashion etailer, which acquired a majority stake in Pretty Little Thing this month and is in the process of acquiring Nasty Gal in the US, also launched its kidswear range during the period as part of its strategy to broaden its product offer.
Joint chief executives Mahmud Kamani and Carol Kane said: "Our strategy offering great pricing, enticing promotions and an ever-broader range of the latest fashion continues to drive growth and enhance customer lifetime value.
"In particular, sales momentum in the USA has continued robustly, helped by our strong customer proposition across the Black Friday weekend.
"Progress is being made towards a further warehouse extension at Burnley to support growth in the longer term, and investment in our IT infrastructure continues."