Northern Ireland-based bikes etailer Chain Reaction Cycles is to open stores in the UK in another example of a predominantly online retailer eyeing opportunities in physical space.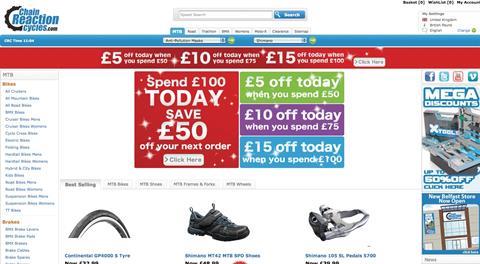 Chain Reaction is understood to have hired property agent Savills to hunt for locations after the etailer opened its first Belfast shop in August.
Sources told Retail Week that the etailer is "interested in other locations" after the successful 10,000 sq ft Belfast opening.
The news follows Amazon's decision to open lockers for customers to pick up items at locations including shopping centres, such as One New Change in the City, and train stations, as revealed by Retail-week.com.
Chain Reaction's rival Wiggle is also mulling the opening of stores to build its brand (Retail Week, October 21).
Chain Reaction is thought to be hunting for 10,000 sq ft out-of-town stores across the UK. It is not known how many stores Chain Reaction wants overall.
One source thought that Chain Reaction "won't do large numbers" of stores, but wants enough to build the brand. Shops are likely to mirror its "state of the art" Belfast shop, which features in-store online ordering for next-day delivery, a 'chill out' lounge and bike maintenance courses.
Montagu Evans partner in retail warehousing Rob Asbury said the launch of Chain Reaction stores would be a "welcome addition to the out-of-town market in a time of economic uncertainty, and the market should get on their bike to support them".