MPs will decide next week if Sir Philip Green should be stripped of his knighthood following the collapse of his former retailer, BHS.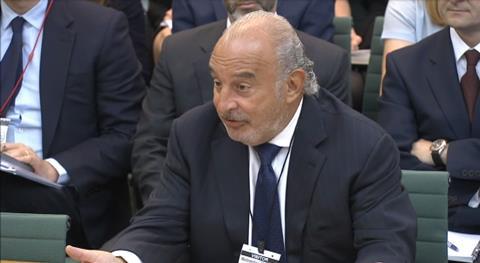 Two MPs – Conservative MP Richard Fuller and independent MP Michelle Thomson – have tabled an amendment to a scheduled debate on the collapse of BHS, and called for the vote.
The parliamentary motion calls on the "honours forfeiture committee to cancel and annul [Green's knighthood]".
The closure of BHS, as first reported by Retail Week, resulted in 11,000 people losing their jobs and a shortfall of £570m in the pension scheme.
Fuller told the BBC's Newsnight: "His [Green's] actions at BHS were of such a nature as to make it faintly ridiculous for him to continue to warrant an award for services to retailing."
He added: "I'm putting forward this amendment for the simple reason that he warrants losing his knighthood.
"This is about expressing a legitimate sentiment about the way someone has behaved – it's not populist screaming, it's not a deal being done behind closed doors."
According to reports, Arcadia tycoon Green said: "I don't want to get involved."
Any vote by MPs will be non-binding, as the House of Commons does not have the power to remove or annul honours.
The parliamentary debate and vote is scheduled for October 20.
The Pension Protection Fund that is currently taking responsibility for paying retirement benefits to former BHS employees has asked the retailer's joint administrators to begin liquidating the remaining entities by the end of the month.