John Lewis sales rose 8.1% to £87.27m in the week to June 28 as customers snapped up bargains in its clearance Sale.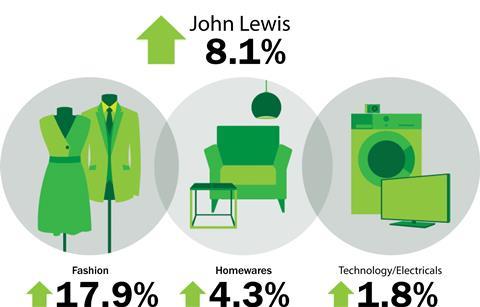 The retailer said it was the best ever clearance launch for the home category, while Johnlewis.com experienced the busiest hour it has ever had between 9pm and 10pm on Wednesday June 25.
Buying director for fashion, Meg Lustman, said: "Fashion had a good week with brands driving particularly strong performances across womenswear, menswear, footwear and accessories, with handbags and shoes driving an 18% gain on accessories.
"Home had a stand-out week with strong performances in furniture and textiles driven by excellent Special Buy and Reduced to Clear demand. We had a record week for furniture with beds and mattresses selling well – Special Buy mattresses were up 13% on 2013." The clearance Sale launched on the Thursday of week 22, a week later than in 2013.
At sister retailer Waitrose, sales rose 2.6% amid what it said were tough comparatives "because of our strong performance last year".
Camping products performed well, with anti-bacterial wipes rising the most at 626% up on last year. Pimms, barbecue meats and snacks were also popular.