Fenwick has swung to a loss after suffering a slump in sales during a "challenging year for retail".
The family-owned department store chain posted a pre-tax loss of £44.2m in the year to January 25, Retail Week can reveal. That compared to a profit of £2m the previous year.
Operating profit before exceptional items tumbled 84.1% to £7.8m. But taking into account one-off costs such as write-downs in the value of its stores, Fenwick booked an operating loss of £43.7m.
Fenwick's bottom line was dented by further investment into its three-year transformation plan and a 13.6% drop in gross sales to £355m. The retailer blamed the fall on a highly promotional market, the ongoing shift to online and "increasingly fragile consumer confidence" sparked by ongoing Brexit uncertainty.
It is the latest department store business to suffer losses as they grapple to remain relevant to modern consumers.
John Lewis posted its first ever half-year loss last month, while Debenhams and House of Fraser are both in the hands of new owners after their respective collapses into administration.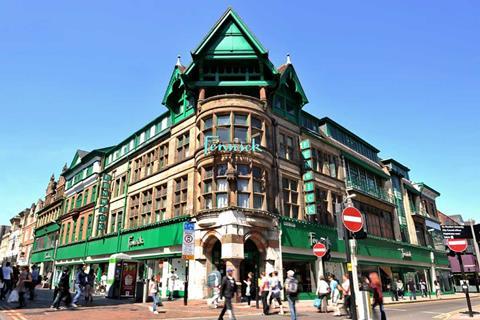 Against such a challenging backdrop, chief executive Robbie Feather – Fenwick's first boss from outside its founding family – is mid-way through his plan to create a more joined-up, multichannel business that is fit for the future.
The former Sainsbury's Argos executive is centralising a number of functions such as buying and HR, which were previously carried out independently at each of Fenwick's nine stores, investing in new IT systems and establishing an online presence.
Fenwick launched its ecommerce platform in April, less than three months into its current financial year, selling 25,000 predominantly fashion SKUs. The website currently accounts for a "very small" part of group sales, but the business is planning for it to gobble up around 20% of turnover within the next three years.
"We are now much better placed to be a proper multichannel retailer," Feather tells Retail Week.
Multichannel investment
Despite a £6.2m capital expenditure in 2018/19 and the backdrop of a "tough" market, Feather insists Fenwick will continue to invest in that multichannel model.
In its current fiscal year, Fenwick is ploughing cash into streamlining its supply chain by consolidating its warehousing space. The retailer made 100 redundancies as part of that process, 60 of which were voluntary.
The department store operator is also injecting cash into new point of sale systems in stores, which Feather says will allow it to "holistically talk to our customers with one voice" by using one set of data across stores and online.
But Feather is eyeing further investments in the look and feel of its stores to drive sales back in the right direction.
In 2019, Fenwick has already opened a new shoe hall on the first floor of its Kingston shop, given the restaurant in its Bond Street store "a makeover" and will open a new café in the same location by the end of October.
However, the business is taking a cautious approach to more radical store refurbishments. Feather says refits will differ on a store-by-store basis, depending on the size of each property and the needs of the local catchment, but wants to create a "quintessentially British department store" with a focus on fashion, beauty experiences, personal shopping and restaurants.
Hitting the Brexit brakes
"We want to bring that to life so that coming to Fenwick is a day out. That's where we are heading," Feather says.
"The big question for us is when do we press the button on that 'masterplan' investment, and work through several floors of a store top to bottom to put in more experiences and more premium brands?
"We have pushed that investment out due to the market that we are currently operating in. But the retailers who succeed will be the ones who invest in their proposition and have points of difference. We are well-positioned to do that, but we have to be sensible about when to make those investments and we will make some decisions around that in early 2020 – by which time I hope Brexit will have moved forward in some way."
Feather insists that, despite the uncertain backdrop, Fenwick has "the shareholder base and balance sheet to ride through this period".
"For strong businesses who offer customers great experiences and great products, there is a good future. I think Fenwick firmly sits in that bracket."

Robbie Feather, Fenwick
"Whilst the numbers are tough to read, they need to be seen in the context of our transformation programme and our position as a medium-to-long-term investor," he says.
So, when will his strategic changes start to take hold and drive Fenwick back into the black?
"It's a tough question," Feather concedes. "The year we are currently in is going to be another tough year because we are still in transformation and the retail climate is tough. With the uncertainty of Brexit, it's very hard to forecast where we are heading.
"But for strong businesses who offer customers great experiences and great products, there is a good future. I think Fenwick firmly sits in that bracket."