Iceland has recorded its strongest sales growth in over a year as a focus on premium products and its new format pays off, according to Kantar.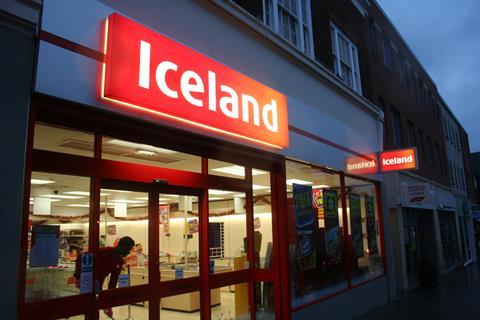 Kantar Worldpanel grocery share figures for the 12 weeks to August 16 also reveal that Sainsbury's was the only one of the big four grocers to grow sales year on year.
Despite the 0.1% sales increase, Sainsbury's still lost its position as Britain's second largest supermarket to Asda because the latter's focus on non-food items traditionally results it its market share being higher in the summer.
Iceland recorded a 3.4% year-on-year increase in sales during the period, representing its largest sales growth since a 3.6% increase in April 2014.
Kantar attributes the sales rise to Iceland switching its marketing approach to focus on more premium products through its 'Power of Frozen' campaign and the opening of The Food Warehouse stores, which are more than double the size of a typical Iceland shop and provide a more upmarket offer.
However, despite the sales increase, Iceland's market share remained flat at 2% as discounters Aldi and Lidl continue to grow rapidly.
Total Till Roll – GB Consumer Spend
12 Weeks to August 17 2014
12 Weeks to August 16 2015
% Change
£m
Market share
£m
Market share
Sales (growth/decline)
Total Grocers
24,740
100%
24,964
100%
0.9%
Total Multiples
24,229
97.9%
24,443
97.9%
0.9%
Tesco
7,122
28.8%
7,056
28.3%
-0.9%
Asda
4,256
17.2%
4,150
16.6%
-2.5%
Sainsbury's
4,060
16.4%
4,063
16.3%
0.1%
Morrisons
2,718
11%
2,689
10.8%
-1.1%
The Co-operative
1,589
6.4%
1,607
6.4%
1.1%
Waitrose
1,219
4.9%
1,264
5.1%
3.7%
Aldi
1,187
4.8%
1,401
5.6%
18%
Lidl
897
3.6%
1,012
4.1%
12.8%
Iceland
485
2%
502
2%
3.4%
Other multiples
694
2.8%
699
2.8%
0.7%
Symbols and independents
511
2.1%
521
2.1%
2.0%
Kantar forecasts Sainsbury's will once again become the second largest grocer towards Christmas because Asda's non-food focus holds less sway then.
Overall there was continued sluggish growth across the market as sales edge up by 0.9% year on year.
Kantar Worldpanel head of retail and consumer insight Fraser McKevitt said: "Industry growth of around or below 1% has now persisted since summer 2014 and has become the new normal.
"Despite the accelerating British economy like-for like grocery prices are still falling, with a representative basket of everyday items now 1.7% cheaper than in 2014."
Waitrose recorded another strong period of growth as its Pick Your Own Offers promotion helped drive sales up 3.7%.
Discounter growth
McKevitt added: "It's been another successful period for the discounters, with growth at Aldi accelerating to 18%. Lidl's sales have also risen, up 12.8%, taking its market share to a new high of 4.1%."
Aldi joint managing director of buying Jonathan Neale said: "Our performance during the peak summer period has been driven by a combination of strong offers on Specialbuy products, such as gardening, camping and summer sport products, as well as increasing demand for British-sourced fresh produce.
"As we head towards September, sales of school uniforms have continued to drive strong footfall across our stores. Our store opening programme is also encouraging more and more households to shop at Aldi for the first time, which is driving continued market share gain."