Families had an extra £18 a week to spend in May compared with the same period last year as food and drink prices continued to fall.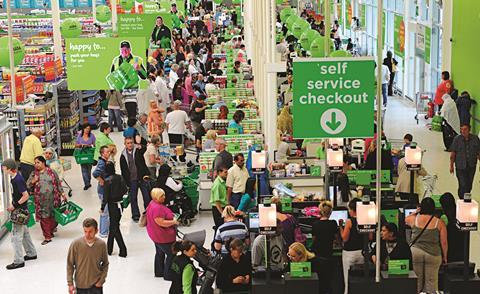 Average UK household had £188 a week to spend in May
Food, drink and gas prices remained in deflation as prices fell 0.1%
Asda boss Clarke says families "can enjoy more than just the weather this month"
The average UK household had £188 of discretionary income to spend every week in May according to the latest Asda Income Tracker, an increase of 10% on the previous year.
Essential item inflation remained in negative territory at -0.1%, driven down by falling food, drink and gas prices, helping to further boost spending power.
Games and toys also dropped 3.4% in price year on year, while garden products, plants and flowers were 2.1% cheaper than they were in May 2014. Equipment for sport and 'open-air recreation' was 1.3% cheaper.
Asda said the growing spending power points to "a bright summer for hard-working Brits and their families".
Increase in discretionary spending
The grocer's chief executive Andy Clarke said: "With discretionary incomes continuing to rise, families will be able to enjoy more than just the weather this month.
"Household finances are improving, the purse strings are loosening and we're seeing people preferring to spend their hard-earned cash on activities for all the family to enjoy.
"What's clear to me is that as family spending power shows no sign of abating and employment levels remain static, households can be confident in a bright summer ahead."
Cebr economist Sam Alderson said: "Households have now benefitted from 20 consecutive months of year-on-year increases in spending power, a strong turnaround from the persistent squeeze seen in recent years.
"After the tumultuous period for household finances, families appear to have used some of the increase in discretionary income to set money aside for a rainy day.
"However, with finances continuing to improve, consumers are likely to enjoy the ability to spend more over the summer months."