Online was undoubtedly the big winner of Christmas 2020. Retail Week's latest report delves into which sectors benefited most from the shift to ecommerce and what that means for the year ahead.
Much like during the rest of 2020, online was the big winner of the golden quarter as a nationwide lockdown and store closures across key regions blighted Christmas shopping.
In Retail Week's latest report, Christmas 2020: Learnings for the year ahead, produced in association with Barclays, Braze, Critizr, Google Ads and Openpay, we look into which sectors saw the biggest online shift during this period.
Across the golden quarter, a whopping 48% of all consumer spending took place online, according to Barclays.
In major sectors such as clothing and general retail (retailers that sell a wide array of different products), ecommerce accounted for more than two-thirds of sales.
However, online growth was strongest in grocery. According to Barclays, online grocery sales nearly doubled (up 91%) over the golden quarter and accounted for more than 15% of overall spend in the grocery sector.
The shift to online inevitably meant that retailers with strong ecommerce offers fared better over peak.
The summit of Retail Week's Christmas trading league table, which readers can view in the Christmas 2020 report, is dominated by pureplays with InTheStyle, AO, The Hut Group, Boohoo and Asos making up the top five.
However, multichannel retailers such as Topps Tiles, Hotel Chocolat and Pets at Home also toasted merry Christmases as their bricks-and-clicks offer proved attractive to shoppers.
The convenience of being able to pick up collections at stores to circumvent delivery delays was also appealing to shoppers – especially as the big day neared.
Argos experienced a 24% uplift in click-and-collect orders in the week leading up to Christmas, while The Entertainer extended its collection service to midday on Christmas Eve.
By contrast, Primark – usually an overperformer in retail – languished at the bottom of the league as like-for-likes plummeted 30% over its golden quarter. Customers were left with no route to shop with the retailer, which has no transactional website, when its stores were shuttered.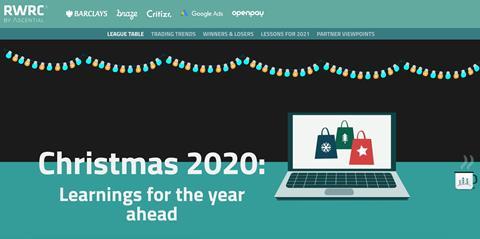 How consumers shopped during Christmas 2020 and what influenced purchasing decisions
The key trading metrics such as footfall, sales and online growth from the golden quarter
Which winning strategies helped retailers ride the storm
The trends that are here to stay in 2021 and beyond
PLUS: Discover who the real winners and losers were over the Christmas period in our comprehensive trading league table
Lessons for 2021
With online currently the sole channel for all but essential retailers in the first quarter, ecommerce looks likely to be just as important in 2021.
In fact, online penetration is forecast to reach 26.1% this year, only a slight dip on the 28.1% experienced in 2020's bumper year, according to Retail Economics.
Retailers across all sectors will need to invest in improving their ecommerce capabilities, from search to website navigation, and build in extra capacity to serve this prolonged uplift in demand.
Fulfilment also has to be an area of investment. Shoppers are seeking fast, convenient ways to get their products, as witnessed by the surge in click-and-collect and the popularity of fulfilment options such as drive-thru collection, which electricals retailer Dixons Carphone pushed heavily.
"Partnerships are also an important way to make sure brands get their products in front of people online"
Forging fulfilment partnerships will also be crucial. John Lewis rolled out its click-and-collect proposition to almost 900 locations last year, including 500 Co-op stores, to offer shoppers the ability to pick up in local shops.
Partnerships are also an important way to make sure brands get their products in front of people online. Imagine how much of the £540m of lost sales during lockdown Primark could have clawed back if it were selling via online marketplaces like Asos and Next.
To delve into more trends and case studies from this highly unusual golden quarter and gain key learnings for the year ahead, read our report now.