Retail Week's inaugural Ecommerce 2021 report surveyed 1,000 UK shoppers to uncover what is driving them to purchase, where they are starting their online shopping journeys and which retailers are winning in UX.

With ecommerce expected to provide 57% of global sales growth by 2025, retailers are now in a race against time to transform their business models to 'digital first' in the space of four years.
In fact, the new Ecommerce 2021 report reveals 51% of consumers are spending on average more than £100 online every month, with 11% spending between £251 and £400, indicating it is now the primary shopping channel for many.
To enable retailers to win consumer attention in the crowded online market, the report – produced in association with ChannelAdvisor and Webgains – asked 1,000 UK consumers of all ages what motivates them to buy online.
What is tempting consumers to shop online with a retailer?
Discounts and free delivery/returns are the best ways to capture new customers online that haven't shopped with a retailer before, according to the research, with 38% and 30% respectively citing these as their top reason.

A recommendation from a friend or family member is the main purchase trigger for 14% of people, so the value of word-of-mouth marketing for ecommerce cannot be overlooked. Interestingly, over-65s are most swayed to shop with a new retailer offering free delivery and returns, with 36% of those in this demographic choosing this option.
The power of social media cannot be underestimated either. Some 10% of women say they would be tempted to shop online with a retailer based on an influencer recommendation, as would 4% of men.
What do consumers want to buy online?
In regards to purchases, the largest proportion of consumers surveyed (41%) said their online purchases had been gifts for others or treats for themselves.

Retailers could leverage this trend by adding 'gift idea' category descriptions to their websites, and prioritising placement of gift items in product searches and on social channels, for instance.
Unsurprisingly household essentials, including grocery, were another major online purchase for consumers – making up 28% of the majority of their online purchases this past year.
What is making consumers want to shop online with a retailer again?
The best way to convert new customers into loyal shoppers is to offer them access to a rewards or membership scheme entitling them to discounts, free gifts and exclusive offers, the report suggests.
The highest proportion of consumers surveyed (39%) suggest this would be most effective in getting them to spend again.
If consumers provide consent for rewards and offers via such programmes, retailers will have a direct line to them, an opportunity to understand their individual triggers and the ability to drive conversion.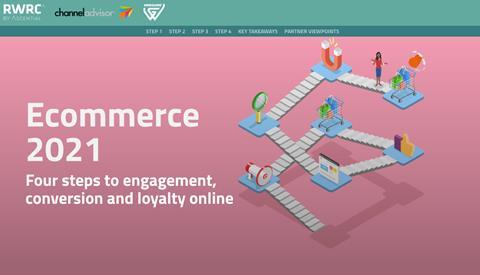 Get your free copy of Ecommerce 2021 today to gain essential insights into how to win consumer attention online and keep them coming back for more.
You will also uncover:
Consumers' pick of the top 10 retailers with the best online UX
The part marketplaces and social are now playing in online brand discovery
How retailers are investing to win in search
The vital role data and personalisation should play in your online strategy
Enjoyed this report? Why not book in one of our experts to present the findings to your team, examining what they mean for you and your business. Contact Isobel Chillman at isobel.chillman@retail-week.com