In a similar vein to last year's Christmas 'Walk of Shame' advert, Harvey Nichols' new tongue-in-cheek campaign addresses another potentially embarrassing scenario of the festive party season – women wearing the same dress to an office party.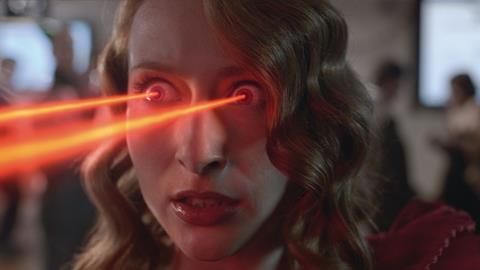 By agency Adam & Eve/DDB, the ad shows two women firing laser beams from their eyes at each other across a crowded party.
One borrows a man's thick-rimmed glasses to deliver a knock-out shot, sending the loser crashing through a glass door.
The ad ends with another woman turning up in the same dress and another battle about to commence.
The ad showcases a situation many women within the retailer's target demographic can relate to, and it ends with the strapline: 'Avoid a same-dress disaster this season. Harvey Nichols womenswear'.
With lasers shooting out of women's eyes and those of a small dog, and Christmas food being blasted off serving trays, the ad successfully strikes a light- hearted tone.
The campaign aims to tell viewers that if the women had shopped at Harvey Nichols they wouldn't have worn the same dress. However, the ad spends comparatively very little screen time on the Harvey Nichols dress it does promote, which is displayed on a digital mannequin at the end and might not catch the eye.
Though not reaching the comedic heights of last year's 'Walk of Shame', the ad does successfully continue Harvey Nichols' run of amusing Christmas ads and should be a hit with its consumer base.