Greg Clark has been appointed as secretary of state for business, energy and industrial strategy in Theresa May's cabinet.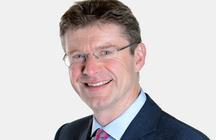 Former communities secretary Clark takes the newly-created position as the business ministry merges with the energy department.
The business ministry has also been shorn of skills and apprenticeships responsibilities, which now lie with education secretary Justine Greening.
Former business secretary Sajid Javid switches roles with Clark and becomes communities secretary.
Clark said: "I am thrilled to have been appointed to lead this new department charged with delivering a comprehensive industrial strategy, leading Government's relationship with business, furthering our world-class science base, delivering affordable, clean energy and tackling climate change."
Clark, whose mother worked at Sainsbury's, was a business consultant before becoming special advisor to trade and industry secretaty Ian Lang in 1996. He was elected MP for Tunbridge Wells from 2005 and joined David Cameron's shadow cabinet in 2006 before becoming a minister in the Department for Communities and Local Government in 2010.
Retailers will be looking to Clark to provide answers to questions on issues such as the National Living Wage and business rates.
Business rates is an area close to Clark's heart. He led a streamlining of the business rates appeals system in England, unveiled earlier this month, which he said would make it easier for businesses to challenge rates bills.