Plans drawn up for 'fresh and dynamic' Mappin & Webb following strong year.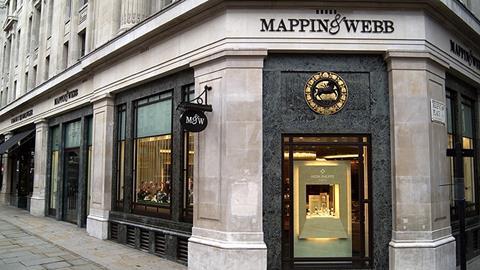 Jewellery group Aurum is to overhaul its luxury brand Mappin & Webb as it seeks to attract interest from potential buyers that view the chain as the 'jewel in the crown' of the retail group.
A new Mappin & Webb store format will be launched this summer and own-brand will be expanded. It will also revamp its marketing so the brand appears more "fresh and dynamic", according to Aurum chief executive Justin Stead.
The brand is also set to launch overseas. Mappin & Webb's global potential is a key reason why the retailer has caught the eye of would-be suitors after Aurum was put up for sale last April by its majority owners, collapsed Icelandic bank Landsbanki. It carries a £200m price tag, it is understood.
Aurum wants to capitalise on the growth potential of Mappin & Webb, which Stead believes could be a global competitor to Tiffany & Co.
Stead said he was "trying to work out whether to do a joint venture, licensing or franchises" overseas.
He said the Aurum business, which also operates the Goldsmiths and Watches of Switzerland facias, had attracted great interest from both the UK and overseas, predominately from private equity firms.
He said interest from potential bidders intensified after Christmas. L Capital – the private equity arm of luxury goods group LVMH, which owns Louis Vuitton and Donna Karan – is understood to be among those interested in the group.
Stead said: "We've had a lot of interest but we're in no rush to sell. We've got a clear set of guidelines of what we want to meet. We want to maximise return for shareholders."
Mappin & Webb achieved double-digit sales growth over the past 12 months. The new format will debut in June in its Manchester, Gleneagles and Bluewater stores. Stead said the design had a "country set" feel inspired by a Downton Abbey-style English manor house.
The retailer intends to develop product this year, including expanding its own-brand offer to drive margins. Own-brand currently accounts for 10% of sales for Mappin & Webb, which stocks luxury brands such as Rolex and Tag Heuer. Stead hopes to grow this to 65%.
Aurum also plans to roll out its Boutique by Goldsmiths fascia, which attracts a younger customer and launched last year. Stead said he was "very pleased" with the performance of the new format. A new store is to open in the Bullring.
Aurum's EBITDA soared 38% to £22.5m in the year to January 29.
Landsbanki is also seeking a sale of its other retail stakes, including Iceland and Hamleys.