What does the new Facebook Home app mean for retailers?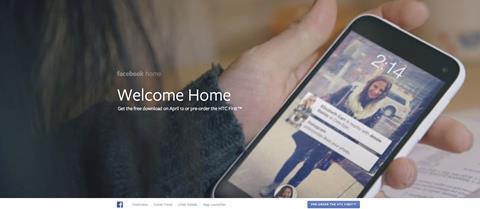 Facebook has announced the launch of its Home app, which will be hosted on the HTC First smartphone. It means that instead of having to click through to a Facebook app, phones will display updates to Facebook profiles and news feeds on the home screen. Other apps will sit behind this Facebook layer.
Facebook boss Mark Zuckerberg described how the new platform aims to enable faster access to pictures and updates by directing the user straight to them on the home screen, and eBay senior director of mobile Olivier Ropars says there could be implications for retailers in the longer term. "At this early stage it's difficult to quantify the impact, but what we do know is that customers who adopt the technology will see more social updates and spend longer within the Facebook ecosystem," he says.
The change will continue to strengthen the importance of content, he says. "Brands with inspirational shopping content will benefit from increased exposure through Facebook Home, but on the other hand retailers will have to work harder than ever to entice customers to their own dedicated apps."
Ropars adds retailers need to develop virtual shop windows on smartphones and says some are already taking steps towards this. He says: "Today, retailers and brands are under increased pressure to engage with their audiences and every channel has its part to play, from inspiration to purchase.
"[The launch of Home] can help the industry take advantage of the impact that social has on shopping, but retailers must not stand still - they have to turn the opportunity into reality."