An expert panel also warns retailers must be ready to comply with anti-fraud measures that come into effect this year, take advantage of powerful new Wi-Fi tech and find a way to reduce contactless payment losses that are costing millions. Register to watch here.
The Co-op and One Stop Stores have revealed that a personalised approach to payment technology and innovations such as the gamification of redeemable prizes have helped them engage with customers and drive repeat custom.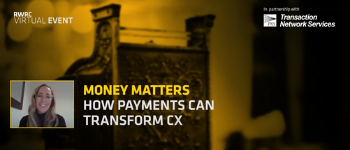 The virtual panel discussion Money Matters: How payments can transform CX, run by Retail Week in partnership with Transaction Network Services (TNS), brought together Co-op divisional managing director Peter Batt, One Stop Stores head of customer Nigel Prendergast, British Retail Consortium (BRC) head of finance policy Andrew Cregan and TNS managing director Mark Collins.
They covered topics including new anti-fraud measures that will become mandatory this year, the future of cash transactions and customer attitudes and behaviour.
The personal touch
The Co-op reached out to its younger customers (34 and under) by launching an app that creates personalised deals for customers each week.
Batt said: "We realised that using a membership card is not what our younger demographic wanted, but our older customers don't want to use an app – they feel extremely uncomfortable with that, so the challenge is [achieving] the universal appeal."
One Stop introduced a festive augmented-reality (AR) game in 2019, in which customers had to 'find' a number of elves to win prizes that are redeemed in store.
Prendergast pointed out that the game helped the retailer enjoy its most successful Christmas trading period ever, with increased average spend and more repeat visits.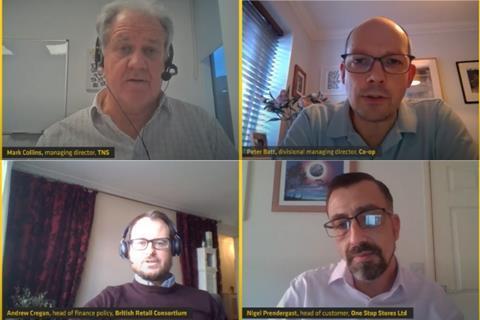 Faster Wi-Fi, more secure transactions
TNS' Collins believes advances in technology will transform CX, "making consumers' experience in a shop or hospitality area more enjoyable and more seamless".
For example, in a petrol station, retailers will be able to offer customers free Wi-Fi, monitor pumps remotely and control software on screens that inform and entertain customers.
This 'digital enablement' will be achieved through state-of-the-art SD-WAN (Software Defined Wide Area Networks) technology, using software that checks constantly to ensure networks and bandwidth run as fast as possible, reducing downtime and outages.
Big changes are on the immediate horizon relating to payment security. In September 2021, a new security requirement – Strong Customer Authentication (SCA) – will become mandatory, requiring customers to use at least two forms of authentication before a payment will be accepted.
This is a big step and something retailers must have in place before the autumn deadline.
The end of cash?
The pandemic has had a huge impact on the way people shop and pay for goods. Research from UK Finance, a trade association for the UK financial services sector, shows 29% more contactless payments were made in the grocery sector in 2020 than the year before.
Meanwhile, research carried out by Retail Week in February this year indicates that only 27% of UK consumers are currently using cash to pay for goods in store, compared with 63% pre-pandemic.
"I don't think that going cashless is going to be viable, because it would economically isolate whole groups of consumers"

Andrew Cregan, head of finance policy, BRC
The Co-op's Batt said, since the pandemic, contactless payments have leapt from 43% to 55% of in-store transactions, with cash payments falling from 45% to 33%.
The BRC's Cregan added: "For many retailers, I don't think that going cashless is going to be viable, because it would economically isolate whole groups of consumers. The future is probably using less cash, but not cashless."
However, this trend will no doubt be propelled by chancellor Rishi Sunak revealing in the 2021 Budget that the limit for contactless payments will rise from £50 to £100.
Don't miss out on the key developments that will shape the retail landscape. For a more detailed discussion of the points raised, watch the full session on demand here.
You'll discover:
The benefits of personalising payment tech
Why reducing failed contactless payments is crucial
New security measures and how retailers must adapt

Transaction Network Services (TNS) provides global managed data communications and interoperability solutions to the payments, financial and communications industries. Thousands of companies from the retail, banking, financial markets and telecom industries count on us to build and manage their mission-critical communications platforms, improving their ability to communicate and transact efficiently and effectively.