With Sainsbury's and Asda in advanced talks to form a £10bn grocery supergroup, Retail Week asks is retail in danger of being monopolised?
It's been dubbed "natural selection" by observers aplenty – the ongoing retail evolution seeing new, hungry players emerge to replace the old and irrelevant.
In the past few years alone, the likes of BHS, Maplin and Toys R Us have fallen by the wayside, as innovative rivals, including Asos, Boohoo and Amazon, continue to gobble up sales.
But as weaker players at the wrong end of the sector's food chain die out, it is not just the modern breed of online businesses that are benefiting from such consolidation.
Retail's biggest predators are growing bigger and stronger, snapping up companies to broaden propositions, extend buying power, generate cost synergies and enhance technological expertise.
Over the weekend, it was revealed that Sainsbury's and Asda were in "advanced discussions" regarding a "combination" of the two grocery giants. A merger of Britain's second and third-largest supermarket operators would create a business with a grocery market share of around 26%.
Sainsbury's-Asda is the latest in a recent spate of M&A activity that threatens to reshape retail as we know it.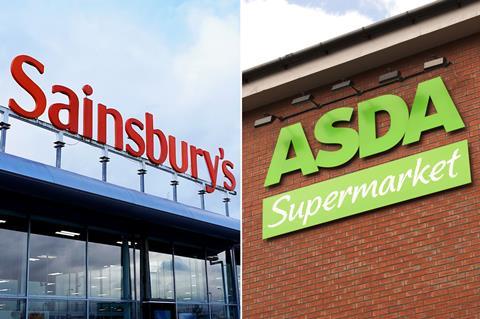 Since last summer, etail titan Amazon has swooped on Whole Foods, Tesco has joined forces with wholesale behemoth Booker and retail property giant Unibail-Radamco has struck a mega-deal to acquire fellow mall owner Westfield.
Indeed, just last week, the Co-op's £137.5m purchase of symbol group Nisa was given the green light by the Competition and Markets Authority (CMA).
The Sainsbury's-Asda and Co-op-Nisa deals are undoubtedly a direct riposte to Tesco's £3.7bn Booker buy – an acquisition that the CMA allowed to go through without and sanctions.
"A third of global retailers have completed five or more acquisitions in the past two years"

Research from Accenture Strategy
Andy Clarke, who led Tesco's big-four rival Asda for six years, suggests that the CMA's "surprising" stance on that acquisition has effectively declared "open season" on retail M&A activity.
As the trend for purchasing or partnering with other businesses ramps up – research from management consultant Accenture Strategy reveals that a third of retailers across the globe have completed five or more acquisitions in the past two years alone – is there a danger of certain sectors of the retail market becoming monopolised?
Shore Capital head of research Clive Black has his concerns.
"Concentration of ownership and concentration of market share is an almost inevitable feature of the market system," he suggests, "but that concentration needs to be controlled and regulated in a way that looks after the economy, shareholders and consumers.
"These days, technology in the digital age starts to play into the capability of monopolistic players to dominate.
"If you look at the online search market share of Amazon and Google in non-food in the UK, and what the market share of Amazon is in non-food, you are well into monopolistic territory.
"Amazon is a company that's very good at talking about its consumer orientation, its consumer insight, its drive to be consumer-focused. But actually, no matter what industry you're in, a monopoly leads to monopolistic behaviour.
"Is Amazon a great exponent of the recycling of cardboard? What sort of taxpayer is Amazon? It's not that they are breaking the law, but you have to ask the question as to whether these companies are good for the consumer in the long run.
"Are they good for market economies in the long run and are they good for society in the long run?"
Digital choice and defensive strikes
The digital and technological revolution Black alludes to – and, more specifically, the ineptitude and indolence of certain retailers in adapting to it – proved one of the largest nails in the coffin for a long line of retailers.
But despite technology being at the heart of the rapid rise of Amazon, as well as the likes of Alibaba and JD.com in the Far East, The Hut Group and Fenwick chairman Richard Pennycook conversely believes digital capabilities will prevent monopolies from forming.
"Most sectors are very well-served with a mix of choice – and digital opens that up further," Pennycook insists.
"From the early days of Amazon Marketplace, we have seen that very small retailers can get to a global audience, which is something that, in the past, retailers have just found impossible. Because of that, the variety available to consumers will continue to grow, rather than shrink."
Pennycook reckons that, rather than being driven by a desire to establish a monopolistic dominance, much of the M&A activity sweeping across retail is "largely defensive" as businesses "find ways to be more flexible, get better buying terms and reduce costs".
Former HMV and Waterstones boss Alan Giles, who led acquisitions of his own during his time with the bookseller, agrees.
"I think there will be more consolidation because firms are under enormous economic pressure and markets are more competitive than they have ever been," Giles explains.
"If you have got a stream of synergies from integrating an acquisition, that can give you some breathing space from the brutality of the marketplace. And even if businesses don't go as far as looking at outright merger and acquisition activity, I think we'll see more buying alliances and more partnerships."
The Sports Direct approach
One retailer exploring the latter route keenly is Sports Direct. The high street chain has built stakes in a number of other retailers including House of Fraser, French Connection, Debenhams and Game as it seeks to establish partnerships that can boost both parties in a brutal retail environment.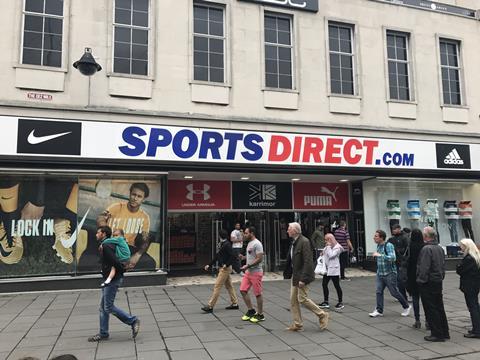 Sports Direct has already trialled concessions in Debenhams stores and wants to install Game's Belong esports arenas into some of its larger shops in high-footfall locations.
"In this kind of environment where online is taking a bigger share, there's a lot of tough competitors out there – and Mike [Ashley] always says 'the bricks need to pull together and build a wall'"

Liam Rowley, head of strategic investments, Sports Direct
The retailer's head of strategic investments, Liam Rowley, dismisses suggestions that Sports Direct is bidding to create a high street monopoly of its own by ultimately buying other retailers outright, but believes having stakes in them carries clear business benefits.
"You'd be surprised at how quickly you get that important meeting if you've got a stake in the game," Rowley says.
"It shows you believe in the business – it says 'we are buying into this business, we are a shareholder, we want this to work'.
"In this kind of environment where online is taking a bigger share, there's a lot of tough competitors out there – and Mike [Ashley] always says 'the bricks need to pull together and build a wall'.
"The consumer expects more and more, and you need to bring them variety and something exciting in-store in order to draw that footfall.
"You can't just sit there and assume that your business is as strong as it used to be in the past. Partnerships are a quick and innovative way of bringing something new to the consumer.
"A consumer walking into a Sports Direct five years from now, compared to a consumer walking into Sports Direct five years ago, is going to have a much better experience. We are going to be bigger stores with a USC, a Flannels premium offer, a gym potentially below, a Game Belong arena – that's much more fun for any consumer."
Does bigger mean better?
Rowley might envisage benefits for the Sports Direct customer as a result of its various partnerships, but could M&A activity in the broader retail market prove equally positive for other shoppers and suppliers – or does the big getting bigger ultimately spell trouble?
Richard Wolff, managing director of Javelin, which is part of Accenture Strategy, says: "It certainly hasn't reached the point where consumers will worry about prices being squeezed up. There's no evidence of prices rising because of market concentration."
Black concurs, insisting consumers need not worry about the threat of any retailers, no matter how vast their market share, seeking to take advantage of their powerful positions by increasing prices.
"Pre-internet, you were limited to a choice of stores. Today, that's not the case," he explains.
"To be fair to Amazon, marketplace provides a huge capability to reach suppliers and the internet in general has allowed SMEs to come through in every product category to broaden choice.
"It's not just about store-based retailers, you have to look at the market in its entirety, and I think there is more ground for consumers to be more relaxed on choice and on price than they could have been in the past.
"Even if Amazon decided to become more monopolistic in its behaviour on price, someone else would fill the void."
"You could see in electricals, for instance, where there is a clear concentration of retail, that manufacturers will want to take that consumer offer into their own hands"

Richard Wolff, managing director, Javelin
Suppliers, however, may not be sleeping quite so easily – and could seek to sell direct to consumers in order to avoid being squeezed on price by businesses leveraging their greater buying power.
"I think suppliers are concerned and I think we'll see an increasing trend of manufacturing brands going direct to consumer," Wolff suggests.
"They have been dabbling in it up until now, but you could see in electricals, for instance, where there is a clear concentration of retail, that manufacturers will want to take that consumer offer into their own hands, either through flagship stores or an online offer."
Growing retail Goliaths will need to maintain a level of discipline by keeping consumers and suppliers on side despite their scale, rather than exploiting it by exhibiting "monopolistic behaviours".
One option undoubtedly off the table in today's increasingly collaborative retail environment is to be a bystander in the consolidation game.
As Rowley concludes: "The high street is under pressure, online is taking a bigger share, and rather than sitting and waiting for your core business and your margins to be deteriorated, why not be bold and innovate ahead?
"If you sit and wait and hope that Amazon doesn't come and eat your lunch, then you might not be around for much longer."
While the current deluge of M&A and partnerships might not be designed to construct a monopolistic position, retailers know it could hold the key to their futures.