Founded by Julian Metcalfe and Sinclair Beecham as a sandwich shop in 1986, Pret is now on nearly every major British high street.
With a brand that has become synonymous with good quality, and a strong company culture that's led to buzzy stores with uber-friendly staff, Pret is a business that many aspire to be like. Here are five things retailers can learn from the fast-growing chain.
It pays to create a strong customer service team
At the Pret Academy, staff are taught to "treat customers as if they are guests in your own home", it has been said
Pret customers are typically greeted by the biggest of smiles and a hello that generally feels meaningful. Today, when consumers are increasingly greeted by self-service machines, such bang-on friendly customer service stands out a mile. It doesn't take much to say hello, but as companies grow, it seems to get lost in their strategy. Pret invests heavily in customer service. At the Pret Academy, staff are taught to "treat customers as if they are guests in your own home", it has been said. Pret runs weekly mystery shopper visits and the whole team is rewarded when stores do well.
Strong customer service is of course evident across many retailers. John Lewis is known for its customer service and strong product knowledge to boot. Dixons Carphone has made service core to its appeal, while upmarket fashion specialists such as Reiss and Whistles also place strong emphasis on helping customers.
Keep innovating
To keep up with the pace of change and customers' expectations, retailers need to evolve and come up with new ideas. Bananas might be the best-selling product at Pret, but that doesn't stop it from coming up with fresh ideas. Pret surprised the industry by opening a pop-up devoted to vegetarian food in London's Soho earlier this year in response to the growing number of meat-free food it was serving up. It also unveiled a fine dining model last year, selling beer and playing jazz as it sought to bring in extra revenues during its slower periods. It's also testing out a motorway service through a 12-month trial with Welcome Break.
The lesson is not to be afraid of change. No other cafe chains have tried a vegetarian-only version and it could have flopped – but Pret has learned from it; sales at the branch are reportedly up 70% on the same period last year.
Efficiency – speed is of the essence
Pret is loved not just for its service but for its speed. Customers can be in and out in two minutes. Very few retailers manage to do this so well. In recent years retailers have introduced self-service tills to speed up the process but they often leave shoppers frustrated and wishing for human interaction.
How does Pret get it so right? In a nutshell, there are people on the tills – lots of them
How does Pret get it so right? In a nutshell, there are people on the tills – lots of them. Not just at Christmas, as is the case with some retailers, but all year round. It means customers are not put off from visiting at lunchtime because they might be confronted by a 15-minute wait. Retailers can learn from this.
Many retailers try to solve the problem at the moment they're faced with the issue of long queues – the sound of a bell ringing at a local convenience store when there are 15 people waiting in line is common. Pret doesn't let matters get to that point in the first place.
Listen to customers – but really
Pret's veggie pop-up came on the back of the chain's chief executive Clive Schlee posting a blog exploring the idea of opening veggie-only cafés. After receiving 10,000 votes in favour of the idea, the decision was made to test it. Pret's a brand that listens. "A lot of brands say vote for a change, when they've already made up their mind," Mark Palmer, Pret chief marketing officer told Marketing Week earlier this year.
"It is just lazy. If customers are good enough to give you their time, you need to listen. Marketers find it hard to listen, they usually have their minds already made up. That is a mistake because if customers want to be part of your brand, you need to take them seriously."
On its website, Pret updates customers on strategy. One post asks customers what it should do following the pop-up. It encourages them to get in touch, and even provides a link to tweet the chief executive. It's also quick to respond on social media.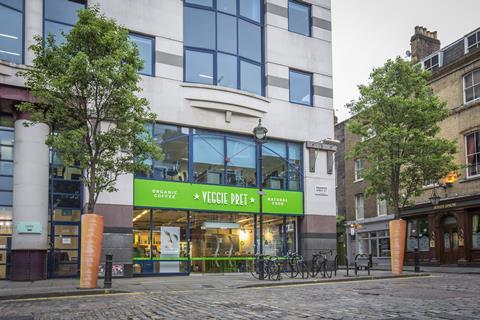 Be a good corporate citizen
Pret gave away a million free coffees last year as part of its "random acts of kindness" initiative, which encourages staff to give a free item to one customer a day.
The business also gives its unsold food to charity at the end of the day.
Other retailers are increasingly seeing the value of such initiatives. Tesco, for instance, is testing free fruit for children.