Retail Week Live addressed the issues facing retailers today and the opportunities of the future. Here are the key themes.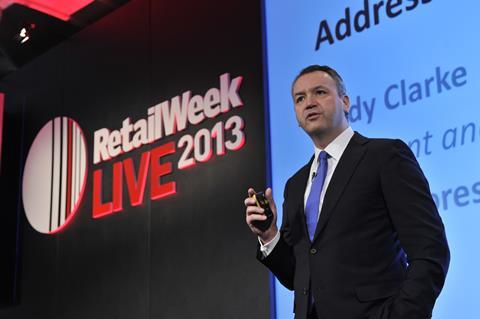 If there was ever a year when it made sense for the retail industry to come together and ruminate, this was it.
The last 12 months have been eventful, with everything from horse meat to administrations to deal with, so there was plenty to discuss at Retail Week Live last week. Retailers turned out in their hundreds at the event to find out how the biggest names in the industry are facing the challenges and making the most of opportunities.
There has also been a fundamental shift within retail in the past year. More businesses now have a handle on what multichannel retailing means for them, and everyone - not just the grocery sector - is grappling with the issue of how to maintain consumer trust.
This year Retail Week Live was abuzz as retailers and suppliers gathered to reflect on the past year and looked ahead to what's in store for the sector.
The supply chain was perhaps predictably front of mind for many and the growing power of the consumer was high on the agenda as well.
Multichannel was also still a big talking point, but this year it was more than just that. For the first time, retailers' individual stances and strategies for dealing with the shifts in shopper behaviour were evident.
Delegates heard not just about plans, but about real projects that are changing the way business is done.
Consumer trust
"Trust takes years to build and a moment to shatter," Andy Clarke said in the first keynote speech at the event, and the Asda boss helped set the tone for the rest of Retail Week Live. "Politicians and banks have trashed trust with the consumer, and now retail has been touched by this."
Building trust in your brand has become the new core differentiator, but as Clarke said, it's not an easy thing to do. "Our biggest challenge as an industry is trust. It cannot be bought, it has to be earned."
Stuart Machin, store development and operations director at Australian supermarket chain Coles, touched on the issue in a more roundabout way. He talked about the importance of transparent pricing, saying customers were fed up with constant promotions.
He said: "Our customers said stop just putting everything on special offer, we don't just want chocolate and soft drinks and chips. Actually we want better pricing on things we buy most - bread and eggs, butter and milk."
He said Coles had looked carefully at its pricing architecture, and changed the way pricing was communicated to customers. "It's more about everyday low price on the things our customers buy most," he said.
Machin also said 100% of the retailer's meat is Australian - something that has taken on a new level of significance following the UK horse meat scandal. "Trust has been key," he says. "To give the people of Australia a shop they trust. We now measure customer service and value every month."
The importance of trust has not been limited to the grocery sector, however. Dixons boss Seb James said it was a central part of the electricals retailer's proposition in the fight with pure-play competitor Amazon.
He said multichannel retailers can have more of a conversation with customers than pure-plays, building up a relationship and getting shoppers to trust the Dixons brand.
James encourages shoppers to compare prices of Dixons' products with those online by providing QR codes to make it easy for smartphone owners to research prices. He added the trend of comparing prices doesn't worry him because for many customers cost is only one factor in a purchase decision.
"Sometimes I'm going to be a bit more expensive than an online player, and that's OK, because customers will make their choice in the round," he said. "I want customers to make a choice with their eyes open, because I think then customers will trust me."
Maplin chief executive John Cleland agreed, saying retailers should put as much emphasis on developing relationships and trust as they do on online development. He said: "The internet is not brilliant at after-sales service and relationships with customers are key." But he added a strong online presence is still crucial: "If advice is all you do best, you end up like Jessops."
Supply chain
Many of these trust issues are centred around the supply chain and the provenance of food and other products. Clarke said it was time for retail chiefs to assume responsibility for where their products are sourced from.
He said: "As CEO of the Asda business, it's my responsibility to make sure the supply chain is robust. I will take a belt-and-braces approach to make sure we have a robust supply chain."
But he did point out that some parts of the system are simply beyond a retailer's control. "I can't control illegal acts, I can only control things within my sphere of influence." With so much investment going into the supply chain this year, it will continue to be front of mind for retailers.
Consumer power
This need to develop customer trust also stems from the growing power of consumers, another theme that arose during Retail Week Live. Shoppers are becoming "connected influencers", in the words of Kate Ancketill, chief executive of trend forecasting agency GDR Creative Intelligence. She said shoppers are often able to influence their peers at the touch of a button through Facebook, Twitter or other forms of media. Ancketill believes this shift in power "will change the world of retailing" in the second half of this decade.
The bravest brands are letting consumers set the terms of their relationship, rather than trying to exercise control. "We always put the customer at the heart and always have," said Scott Weavers-Wright, founder of Kiddicare and now chief architect of food technology at Morrisons. "We've been taught by our consumers that if we fail they'll go on our site and give us a pounding."
Rather than edit how consumers talk about the Kiddicare brand in public, Weavers-Wright said the retailer encourages shoppers to lead the conversation by, for instance, allowing both positive and negative reviews to be posted online. "The reality is customers don't believe five-star reviews," he said. "They like to see a mix. We populate the website with those mixed reviews and don't moderate them."
The role of stores
Stores and their role in the future came up time and again, as retailers grapple with how best to adapt their store businesses for a multichannel environment. The consensus is stores will change fundamentally, but the extent and type of change will depend both on the category and the retailer. As Rich Hoalst, general manager for digital commerce in Europe at Nike, said: "The only thing we know is there will be a massive shift."
Oasis deputy managing director Hash Ladha said the fashion group's stores had become like "mini DCs", with online orders being fulfilled from shops if the warehouse is out of stock.
He said showrooming is unavoidable, as customers use their phones to compare the prices of other products in store in increasing numbers.
He said: "It's better to embrace the way people live rather than try to work against it. That's where your brand will come into play - the strength of the bond you build with the consumer, why they'd choose you over others."
Aurora Fashions property director Ian Dudley said the group plans to close between 30 and 40 stores per brand over the next five years as leases come to an end. "People's shopping habits have changed," he said. "They're prepared to travel further. The Wokingtons of the world won't be able to host shops of our nature when customers can get it on the internet." The continuing decline of the high street goes hand in hand with changing stores, and retail guru Mary Portas spoke of her efforts to improve the situation.
"I haven't put a timeline on this," she said. "The result of what happens on the high street is going to take years, and so for me to have thought it [the Portas Pilots] could have got further down the line by now would have been a false hope."
Multichannel movements
Multichannel evolution is the basis of many changes in the sector, and this year there was more evidence than ever before of how retailers are responding.
Marks & Spencer head of new channels Benjy Meyer outlined how different aspects of the retailer's state-of-the-art Cheshire Oaks store are being rolled out across the estate. He said M&S is delighted with how the multichannel technology is performing and that it is leading to incremental sales.
Meyer said 900 million sq ft of space across the estate has so far been developed using ideas from Cheshire Oaks, and that sales in those locations were up 2.5% and brand perception up 9% in November 2012.
M&S head of store design and international store development Teresa Clark said one example of the technology that works is large flatscreens that display fashion product. Clark said they inspire customers and improve clothing sales. "A little bit of movement is really attractive to the customer. To M&S multichannel isn't about replacing one way of shopping, it's about making shopping more inspirational and aspirational."
For Jon Wragg, director of multichannel strategy at Asda, it's all about mapping out the customer journey. He said: "Understanding the customer journey and how customers are behaving is one of our biggest areas of focus. How customers use mobile, tablets, stores and combinations of all three is fascinating."
For others, legacy IT systems can cause problems. Simon Holder, multichannel development director at Wickes, said trying to achieve a single view of the customer means retailers can run into issues with legacy systems. "How to translate that to get a single view is a challenge," he said.
But while retailers work hard to improve their IT, customer expectations are growing. Debenhams marketing director Richard Cristofoli told delegates that customers who shop online and through mobile channels were expecting more in terms of customer service than they otherwise would in stores.
"Customers are much more demanding online than they would be in a face-to-face exchange in-store," said Cristofoli, adding that discussions regarding service were now being conducted in the public domain, on social networking sites such as Twitter.
Recruiting talent
It's all very well discussing how things need to change, but working out how to do it is another matter. Bosses including Asos chief executive Nick Robertson and Kiddicare founder Scott Weavers-Wright said finding talented IT staff is getting harder.
Robertson said: "You need technology to drive everything, but the issue is finding that pool of talented people. Finding the right calibre of people is increasingly hard."
Weavers-Wright added: "There's no doubt now as we go into more intense periods of work that we are finding a shortage."
The incoming chairman of etailer The Hut Group, Richard Pennycook, said the problems exist because digital is such a new industry. He said: "Digital is very new and immature and traditional retailing has had 150 years of history to develop. Digital has had 15 years or so. We're learning as we go."
And skills are just as important outside of the technology team. Pets at Home people director Ryan Cheyne said the retailer was using the knowledge of its store assistants as a point of difference. "We were getting feedback that our colleagues looked like colleagues in any other store so we realised we needed to shout about our credentials and expertise," he said.
The retailer's latest ad campaign highlighted the fact that more than 90% of Pets At Home employees owned pets themselves.
International
International growth has been high on the agenda for years, and has become especially important throughout the downturn as retailers hunt out growth.
Business secretary Vince Cable opened Retail Week Live with a speech about the importance of foreign growth, and the work the Government is doing to ease the path into other markets. "The big emerging markets are where the growth is. But when we get there we find there are big access barriers. It's difficult, as you know.
We're continuing to negotiate with them."
For retailers, the focus was on the nitty gritty as they discussed the practicalities of international retailing.
Debenhams international director Francis McAuley said there are a number of stages the retailer goes through before deciding whether to proceed in a new overseas market. "The first box you need to tick is scale. Then you look at barriers to entry, and if the barriers are OK you then ask is there space for you in the market. If there is then you go for it."
Aurora Fashions chief executive Mike Shearwood added that understanding the culture of the country you're entering is vital to successful expansion. Shearwood gave the example of a Saudi Arabian store where police insisted a mannequin was removed from the window because its nipples were too pointy. "It's these details that you overlook but they catch you out all the time," he said.
Stories of retailers tripped up by local cultural quirks are common, and Cath Kidston chief executive Kenny Wilson said a greater understanding of product with local relevance is key to international success.
He said: "For those looking to grow abroad, getting out in these markets and understanding the consumer will drive growth."
He cited the example of Cath Kidston's experience in Korea, where its homeware sales were initially low before it realised its bowls were too big for the market. Meanwhile, kitchenware sales in Thailand were low because the retailer hadn't accounted for the fact that wealthy Thais employ kitchen staff and don't need to buy kitchenware. Wilson added: "If you don't understand what's similar and what's different country by country, it's hard to be a truly global brand."
After a tumultuous year, Retail Week Live provided a great opportunity to pause and reflect on where things are heading - as well as a bit of entertainment from some of the industry's biggest characters. As the must-attend event of the year, Retail Week Live 2014 will be well worth a visit.
Quotes from Retail Week Live
"We are witnessing the Phoenix-like rise of the generalist. Everyone thought Jeff Bezos was building the world's biggest Waterstones. We now know he was building the world's biggest department store"
Richard Cristofoli, Debenhams
"It's not about holding the death of the high street back, the tsunami that was coming, it's really about what will be the future role"
"If advice is all you do best, you end up like Jessops"
"As everybody in this room knows, this is a pretty tough business and maybe there should be a bravery award if you survive 30 years"
Sir Philip Green, Arcadia, at the Oracle Week Awards 2013, held at the end of Retail Week Live
The lessons John Browett learnt at Apple
Leadership is another topic that always resonates, but this year that theme took on a particular sense of importance. The difficulty of leading a business through structural change was a topic discussed by retailers including John Browett, former Dixons boss and ex-Apple senior vice-president of retail, who is now the new chief executive of fashion chain Monsoon.
He spoke of the lessons he learnt at Apple, calling the time he spent at the American technology giant "one of the best things that's ever happened to me".
He said: "Apple is a truly fantastic business. The people are great, the culture is great - I loved working there. I just didn't fit with the way they ran the business.
"It was one of those things where you are ejected for fit, not for competency. It was actually one of the best things that's ever happened to me."
He said he had learnt a range of lessons during the experience. "I learnt humility. It makes you a kinder person. It also makes me very clear about who I am and what I am like to work with, and that's an amazing lesson. It will make me much better at doing my job in the future."
Browett's fellow panellists, BRC deputy chairman and former Debenhams boss Rob Templeman and Costcutter chief executive Darcy Willson-Rymer, both agreed that leading a company is particularly difficult during economically stringent periods. Templeman said: "When you're chief executive you're responsible not just for the business. At Debenhams we had 27,000 members of staff. You're making decisions that affect thousands of people."