Less than a year ago the retailer was a laughing stock in the City after its own 'Black Friday'. While analysts still have niggles, SuperGroup is very much back on track.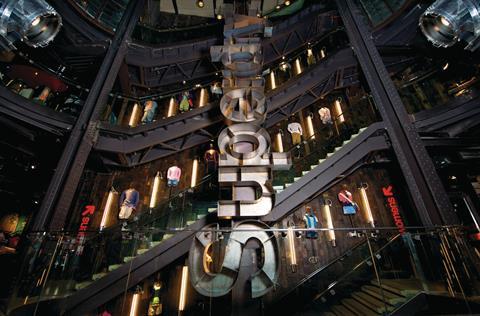 Last year was Supergroup chief executive Julian Dunkerton's annus horribilis. An IT glitch that affected a new warehouse system wiped £9m off SuperGroup's earnings, and a shock profit warning sent its share price spiralling 40% in one day when the retailer unearthed an arithmetic error in its forecasting.
It's fair to say that SuperGroup became a laughing stock among some in the City and the joke was that it was a surprise if an update from the fashion retailer contained no surprises. However, 10 months on a different picture
is emerging.
"We're four announcements in with no surprises now," says SuperGroup chief financial officer Shaun Wills, after the retailer posted a 10.6% like-for-like jump in the third quarter last week.
Wills was drafted into the retailer along with former John Lewis director Susanne Given last April, at a time when the fashion retailer seemed to be falling apart at the seams. The profit warning that devastated the retailer's value occurred on a Friday - Wills started the Monday after.
"Over the weekend I seriously thought: should I go in on Monday?" he admits. "But I thought it was a good press opportunity for both SuperGroup and for me personally to turn it around."
Almost a year on and the move seems to have paid off for Wills. House broker Seymour Pierce analyst Freddie George says last week's update represented a turning point in SuperGroup's fortunes and the retailer's share price has reacted favourably. It climbed to 730p, some way from its 280p low last summer.
Some in the industry still have their doubts about how sustainable the business truly is, but as sales continue
to soar it is hard to knock the SuperGroup growth story, which seems not to be slowing.
Infrastructure
SuperGroup is on track to make £50m profit this year, just 10 years into its existence, but some niggles remain among analysts.
"It has worked hard to hit the profit numbers and it looks like it is going to get there this year. However, if you look at the level of investment in the business, I don't think sufficient [investment] is being made," says Espirito Santo's Sanjay Vidyarthi. "A key question is whether it can support the level of growth overseas."
Vidyarthi points out that similar businesses such as Asos and Ted Baker have invested in infrastructure, at the expense of short-term profitability, ahead of international expansion and believes SuperGroup should have followed suit.
He compares Asos and SuperGroup to the tortoise and the hare. "SuperGroup has gone for too much too quickly. Having beaten Asos to the £50m pre-tax profit mark in full-year 2011 [the two] are now running neck and neck in full-year 2013."
Vidyarthi points out that unlike SuperGroup, Asos has had no financial hiccups.
SuperGroup chief financial officer Shaun Wills admits the retailer still needs to replace some of its systems including merchandising, the website and PoS, and is prioritising which to focus on first.
The last big infrastructure project the retailer took on - the warehouse management system - suffered well-documented problems.
However, Wills says he is unfazed. "Our approach to our bigger projects is much more professional. Our whole governance system now falls in line with that of Marks & Spencer rather than the SuperGroup of old."
Management
One of the key reasons SuperGroup now appears on track is the new professionalism imported into the management team. Chief financial officer Shaun Wills and chief operating officer Susanne Given had a huge task on their hands to turn around a sceptical City and deliver retail success.
"My first role was to go to the City and shareholders and assure them there were no further surprises," says Wills. "One broker said we were uninvestible. That was probably a fair assessment then."
The first thing Wills did was investigate what happened on that so-called 'Black Friday', which occurred just before he started. "People assumed that our accounts team couldn't add up, but it wasn't about that," he maintains.
The reason for the mathematical cock-up was because the wholesale and retail finance teams worked in isolation, according to Wills, who rectified the problem.
Given's job was to install both processes and people to help SuperGroup handle the exponential growth it was, and is, experiencing. She says: "We are such a young business that was desperately trying to cope with unprecedented levels of growth. We didn't have the right processes. Now we don't deviate from processes without proper due diligence."
The key word boss Julian Dunkerton uses to describe his new management team is "consistent". He says: "It has made a huge difference to standards throughout the business. I was doing too much personally.
I realised I couldn't do everything."
Dunkerton points out that the new team has allowed him to concentrate on his true passion - product - and says he realised that a change was needed when SuperGroup became a public company.
"For someone who is hands-on like myself it's hard to strike a balance between the City and the basic running of the company," he explains.
Wills says he thought the turnaround would take two years. However, less than a year in, he believes the City is already starting to change its tune on the retailer.
One analyst, who asked not to be named, testifies that Wills and Given have impressed the market.
"They have made a big difference. It's a lot more professional," he says.
The people changes go beyond Wills and Given. The retailer has invested in new skills throughout the business, such as its first head of retail Claire Arksey who started last year. "They recruited positions which were greatly needed," says Espirito Santo analyst Sanjay Vidyarthi. "The stock problem that they had last year should have been noticed straight away in store."
Now that some of the grisliest bears have started to change their views, Dunkerton expects a City reassessment to continue.
"We had a good reaction, and consistency will continue to improve it," he says. "The sector is volatile but all we can do is be consistent. We've started with product and experience and will need to make sure that continues throughout the rest of the business."
International
International and multichannel is the future of SuperGroup, according to boss Julian Dunkerton. However, although demand overseas is strong, the retailer has been criticised by some about its strategy.
"International has been a little bit scattergun. A few years ago it was willing to open with anyone, anywhere," says Espirito Santo's Sanjay Vidyarthi.
He believes the retailer has a fractured European model, which is based on owned stores, franchise, distribution and licence. "I've never felt comfortable with that matrix," notes Vidyarthi.
Chief financial officer Shaun Wills admits SuperGroup's international strategy was opportunistic at first.
However, he and chief operating officer Susanne Given are now working with consultancy Bain & Company to develop more detailed plans based on more informed decisions.
"We're a bit more cautious in the type of partner we choose. We need to work with partners who are able to fund a fast roll-out if that's required," he says.
However, Dunkerton insists that the adoption of a variety of routes to market makes sense. "It is how Tommy Hilfiger runs its business in Europe, and look how it's doing," he asserts.
Given says the work with Bain will enable the retailer to identify the best mix of international expansion channels.
Brand power
The longevity of the Superdry brand has frequently been questioned because of the ubiquity of its Japanese-style logo, and some have drawn comparisons with French Connection.
The latter had a meteoric rise in the 1990s as its FCUK-branded merchandise went down a storm with shoppers, but it crashed to earth when it fell out of fashion.
SuperGroup boss Julian Dunkerton slams the comparison. "It had one logo on one T-shirt. I've just come from a meeting with [tailor] Timothy Everest about our collaboration who said the range contains some of the most beautiful product he's seen. Our biggest investment in the past 12 months has been our design team," he says.
However, according to Espirito Santo's Sanjay Vidyarthi, SuperGroup's logo-emblazoned T-shirts alone still account for 20% of sales.
Chief financial officer Shaun Wills can understand why some observers have made a comparison with French Connection but insists the brand's strength is still growing. "Even when we've had hiccups on the profit side, our sales growth has been consistently strong," he says. "Our research shows our brand is stronger than ever."
Dunkerton maintains: "People love the brand and our product is improving. I think this industry is undergoing a period of consolidation where less and less brands are relevant. Superdry is still an incredibly relevant brand."
The numbers appear to back him up. The wholesale order book for spring 2013 is up 20% on last year, and Dunkerton says the response to the autumn 2013 range at industry trade show Bread & Butter was "phenomenal".
SuperGroup has striven to expand its product beyond its core branded T-shirts and hoodies. It has launched tailored clothing, a designer collaboration and has less of a reliance on the Japanese graphics which made it famous.