Latest news, insight and analysis on Asda and George
Asda – owned by Walmart - is the UK's second largest retailer and grocery superstore operator with a 17.3% share of the market in October 2011. In late-2011 there were 525 stores, comprising 303 superstores, 29 large supercentres, approaching 170 supermarkets and 27 Living stores.
Lidl's push into fashion could open up a new front against established grocers. Retail Week compares the tactics of the supermarkets
With Dave Lewis' arrival at a rudderless Tesco being brought forward and the warning on profits again, it is fair to suggest that all is not sweetness and light in Cheshunt.
Full company profile for Asda, including: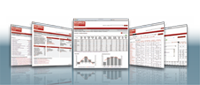 Powered by: