The news that Woolworths was collapsing broke half a decade ago. Five years on, what have retailers learned from Woolworths' demise?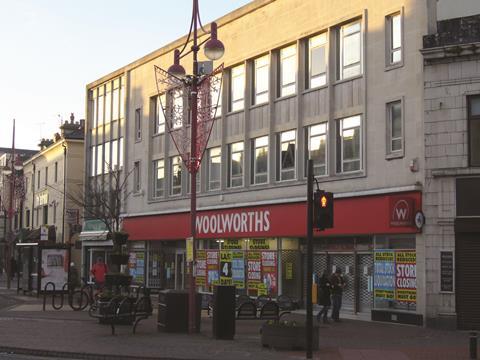 It hardly seems possible that it was five years ago that Woolworths revealed it was going into administration, but on Tuesday 26th November half a decade will have passed. The demise of the general merchant marked the start of an unprecedented period of change for the UK's high streets - from a tranche of administrations to mobile and click-and-collect, a lot has happened since.
"Woolworths' demise was sad, because it was a great retailer that failed to move with the times," says Poundland chief executive Jim McCarthy. "Now you've got to be really on-the- ball and provide customers with what they want when they want it, and have an economic model that fits."
The news broke that Woolworths was collapsing on November 26, 2008, and since then the high street has become a very different place.
Retailers including Comet, Jessops and HMV have disappeared or reduced their store estates significantly, although in the case of the latter two new owners are attempting to revive the businesses. Others, such as Next, Currys, PC World and Argos have evolved their proposition to embrace new technologies and channels.
In the same way that the collapse of Lehman Brothers marked the beginning of the financial crisis, for many Woolworths' demise represented the beginning of the downturn that has dogged the sector ever since - although there is now some optimism that conditions may be improving.
The importance of value
The picture that Woolworths' old stores paint of the UK high street is an interesting one. Most of all, it shows the rapid growth of the value sector, with Poundland, 99p Stores and B&M Bargains all snapping up its former shops since the retailer went bust.
McCarthy estimates Poundland has taken about 85 or 90 former Woolworths stores in total - about 10% of the estate. "It did enable us to take some of their stores and put our proposition in front of more consumers," he says.
Consumers have become more value-focused over the past half-decade, as reflected in the growth of single-price point players, but also in the success of retailers such as B&M Bargains and Home Bargains.
McCarthy observes that the search for value on the high street has been supported by online shopping's rapid growth, which has given consumers access to much more information. "Information systems show people where value can be found, and they can do that on the move. Access to value is greater than it used to be," he says.
Downturn habits here to stay
The changes wrought since Woolworths' demise aren't going anywhere. McCarthy says consumer buying habits that have developed over the past five years are likely to remain the same. "We have had an economic challenge from the consumer's perspective in particular for five years now, and I think behaviours have changed. People appreciate value now.
"I think the behaviours that have been acquired during these five years are sticky. People are now proud when they save money."
Where Woolies' share went
Another clear trend among former Woolworths' stores is that there is no single leader in the general merchandise sector. Woolies' general merchandise spend has been spread far and wide between a number of different players, and no one retailer has stepped into the gap it left.
"The market share hasn't been absorbed by one business," says Neil Saunders, managing director of analyst Conlumino. "This makes sense, because the [general merchandise] model probably didn't support one business. It left a big gap for a general merchant, and the pound shops have certainly benefited from Woolworths' spend."
Wilkinson is another retailer that has benefited from Woolworths' demise, Saunders adds. Although its model is similar to that of Woolworths, Wilkinson has achieved better execution with a greater level of focus. In addition, the supermarkets also mopped up a significant amount of general merchandise spend as their non-food offer grew over the past five years.
McCarthy agrees: "I believe the money they used to take has been transferred to the market in general."
A clear proposition is crucial
Saunders says one of the main lessons from Woolworths' collapse is the importance of a clear proposition, and this has manifested itself across the high street. "No one ever quite knew what Woolworths stood for," he says. "I think retailers have learnt how important a clear proposition is. The pound shops focus very much on price."
At B&M there are bargains to be found for shoppers keen to rifle through stores - the thrill of bargain-hunting is clearly proving to be a draw for consumers. "These new players have a much better focus on understanding what they need to be to the consumer. It helps them differentiate," says Saunders.
Look for new opportunities
Saunders thinks this sharpening of focus has led to a better high street. "Woolworths was the first major chain to go under and a number of others went too. The weak propositions have been stripped away and a new breed of retailer has taken their place," he says.
There's still plenty of work to do for many retailers chasing the multichannel dream, of course, but Saunders says the process that has continued since Woolworths' departure is creating a more interesting offer for consumers. "A lot of this is about churn - as one weak player moves out, another stronger one moves in," he maintains.
While the loss of big names may be regrettable, it does mean that new retailers can move in to take their place.
As Saunders says: "It's not all gloomy news for the high street - some really interesting things have happened."
Retailers need to make sure they play a clear role on this new high street - easier said than done, perhaps. If Woolworths' closure holds one lesson for other retailers, it's that there is no room for complacency when trends move as quickly as they have in the last decade.
Most common uses of old Woolworths stores
Based on a sample of 251 out of 807 stores:
1 Poundland (including Dealz)
2 B&M Bargains (including B&M Home Store)
3 Iceland
4 Wilkinson
5 The Original Factory Shop
6 99p Stores (including Family Bargains)
7 Home Bargains
7 M&Co
7 Poundworld (including Discount UK)
10 Heron Foods
10 Poundstretcher
10 Tesco
Source: Graham Soult