Last week 'son of Woolworths' Alworths went into administration after weeks of uncertainty. Does its collapse prove right those who said the variety store format is dead? Rebecca Thomson investigates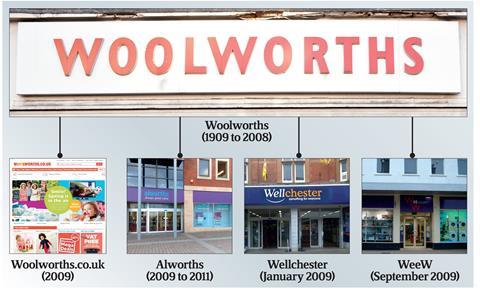 What was to blame for Woolowrths collapse in 2008? Many said the model was simply broken and that there was no longer a place for an 800 store variety chain on the UK high street. But there were those who claimed it was the management, the banks or the credit insurers who were to blame, and that there was nothing fundamentally wrong with the business model.
Among those who thought Woolworths could live again were the founders of Alworths, which aimed to fill its gap in market towns up and down the country. But last week the dream died when Alworths collapsed into administration.
So what does the demise of Alworths show us about the Woolworths model? Had it just had its day? Or do the fortunes of other heirs to the Woolworths mantle point to a brighter future.
A tough task
Alworths was created 100 days after its predecessor went under by Woolworths former head of store concessions Andy Latham. Former commercial director Tony Page was also involved, and the chain opened 17 stores in market towns around the UK such as Warminster.
"The level of affection for the brand is incredible."

Mark Newton-Jones, Shop Direct Group
The fanfare was short lived. 2011 brought news of the resignation of Andy Latham as managing director in February, and March saw a dispute over rent payments in its Llandudno store. Its problems came to a head on April 1, when it was announced the company had entered administration.
Sue Grist, director at consulting firm Egremont Group, says Alworths suffered from not having the buying power of the value chains or the brand power of the supermarkets. Plus, its offer was similar to its predecessor's – the lack of unique products made it vulnerable to competition. "Woolworths saw many categories move to commodity status, and the next generation has not been able to do anything substantially different to reverse that situation," she says. But whatever the problems that led to Alworths' demise, one thing's for sure; this particular attempt to reinstate the Woolworths format has not been successful.
Meanwhile, Woolworths' web domain name was snapped up by online juggernaut Shop Direct, which launched Woolworths.co.uk in 2009. Shop Direct Group chief executive Mark Newton-Jones said at the time: "The level of affection for the brand is incredible." The group said it expected the site to make a profit within a year, and in November 2009 even talked about opening a chain of 200 stores under the brand name.
"Despite the nostalgia attached to the Woolworths name, the brand has failed to bring much in the way of actual shoppers."

Matthew Piner, Verdict
Shop Direct has declined to comment in this feature, saying it doesn't comment on individual brands' performance. Despite its parent company doing well, the Woolworths site has struggled to carve out a niche for itself online. Verdict senior retail analyst Matthew Piner says an absence of sales figures makes it "hard to get an idea of how it's doing". However, in a Verdict survey, 4,000 customers were asked about their online shopping habits in the 12 months to October 2010. Of those surveyed, only 0.1% said they had bought electrical goods or computer games from Woolworths, and 0.3% said they had bought music from the company. "It doesn't seem like it's been a massive success for them," Piner concludes. "Despite the supposed nostalgia attached to the Woolworths name, buying the brand has failed to bring Shop Direct Group much in the way of actual shoppers."
As well as the website and the Alworths chain, a handful of independent stores opened up after Woolworths' demise. At the time of its collapse, many of the chain's smaller and medium stores were still profitable, and former Woolworths staff at these stores have stepped in to fill the void that the store closure would have created for local shoppers. Whether or not their model is scalable – especially in a difficult economic climate – is another question altogether.
Whatever these companies' successes or failures, one thing they've proved is the business model for a variety store can be difficult to get right. While Woolworths led the pack for years, too many mistakes meant it took its eye off the ball. Competitors moved in and the market today is crowded, with value stores like Poundland and Wilkinson mopping up the customers that don't use the big out-of-town grocers for their general needs. However skilfully Woolworths' successors operate, the challenge is arguably bigger than it might have been five years ago.
Hurdles to jump
"There's no intrinsic reason why the format should fail"

Robert Clark , Retail Week Knowledge Bank
Not only are economic conditions a hurdle for these businesses, Woolworths' legacy has proved more of a hurdle to jump than an advantage to build on. One of the problems the company faced was a lack of clarity over its offer, and its subsequent businesses have struggled with this too. Piner says: "When Woolworths went under there was already a bit of doubt in its last days about what exactly it represented." Entertainment, sweets, DIY, toys, children's clothes and homewares isn't always a product mix that fits together well and, despite the business trying a few different directions such as its music distribution business Entertainment UK, Woolworths lost its way in its latter years.
Although the variety store format is not easy to perfect, it's certainly not redundant, argues Retail Week Knowledge Bank consultant director Robert Clark. "It's not necessarily dead and buried. You've got latter-day operations like Home Bargains that seems to be making a reasonable fist of it." Home Bargains is currently on an aggressive expansion plan. He adds: "There's no intrinsic reason why the format should fail or is necessarily flawed.
"I don't think the space has necessarily been taken. The success of Wilkinson shows it's not impossible to achieve scale and evolve a business, although they did do it in better times than this. It's all in implementation, execution and flexibility."
So the business model still has life in it, but tough trading and the crowded retail market will not be helping. Claire Robertson, general manager of independent store Wellchester – formerly Wellworths – in Dorchester, admits the planning laws helped Woolworths – and now her store – to thrive in her town. When Woolworths shut, it didn't have any other type of general retailer in the town. "There was no Wilkinson or Poundland and it's right in the middle of the high street." And that made the decision to open her own spin-off an easy one. While competition from supermarkets is a risk, Robertson says, planning covenants in the area means it's difficult for the big grocers to get a hold there. "We're quite lucky in Dorchester because bylaws have been in place for a long time. We don't have the big supermarkets that sell everything."
Freedom to choose
Flexibility is certainly a central part of Woolworths' independent successors' approach. Robertson says one of the big advantages of running her own store over a Woolworths branch is the freedom it gives her to tailor her offer to the local demographic. She doesn't miss the top-down approach from her old management, and says being able to choose her own mix of products and talk to suppliers is a big improvement. "Before, I was running the store for head office. Now we can change things when we want to. We can be a lot more local and have more of a community feel about the store."
One of Woolworths' problems, adds Robertson, was a failure to listen to store managers: "There were quite a few of us that felt like there were things we could suggest, but we felt like we were banging our heads against a brick wall." Wellchester is expected to make a profit this year, she says, and is looking at other stores in nearby locations for potential expansion.
Best of the rest
Former Woolworths store manager Terry Ovenstone now runs the two-store WeeW in Stornoway on the Isle of Lewis. He believes the best approach is to take the good bits of Woolworths' business model and adapt the rest. "We feel the business model still works, but it needs a little tweak here and there to make it viable."
"We feel the business model still works, but it needs a little tweak here and there to make it viable."

Terry Ovenstone, WeeW
Stornoway is another place with no other variety stores, so customers keenly felt the loss of Woolworths, and the core lines of homewares and electrical goods have done well. "We are more focused on cost than Woolworths was. Every single employee understands how the business works and the importance of selling products at full price, because it's so small that they need to understand it." He believes that one of Woolworths' big failures was leaving cash tied up in stock, letting unsold products sit on shelves for too long. WeeW's aim is to cut prices and clear any product that's been on shelves for more than 16 weeks.
Ovenstone says the journey has been a learning curve – the Outer Hebrides certainly gets its fair share of difficult weather, and the store has worked hard to bring in stock early enough in the year so it can cope with getting cut off from the mainland in winter. It has also dealt with problems faced by many independents, as the absence of Woolworths' buying power eats away at its economies of scale. Plus about 60% of the population in that area of Scotland is employed by the public sector, making 2011 even more of a challenge for retailers in the vicinity.
WeeW made a loss last year, but Ovenstone says this was because of costs associated with opening a store in another part of the town that sells electrical goods. The business has diversified into selling computers and TVs, and up to a third of its trade involves selling to other business, as hotels and restaurants on the island increasingly rely on the company for electrical goods. "We're probably not making as much money as we thought we were going to make, but we're still positive about what we can offer," he says.
Ultimately, says Piner, Woolworths' successors need to choose a definite path to tread if their endeavours are going to reap real rewards. "You need to decide if you're a value retailer, and compete with the pound shops,
or if you're going down a more premium route and will offer the kind of service you don't really get in fixed-price retailers or big grocers."
Independents, with their community focus, are probably leaning more towards the latter, but with the economy so difficult, it is hard to see a national offer built on Woolworths' brand having a real impact. While individual success stories like Wellchester show that it can work at a local level, the true heirs to Woolworths are businesses such as Wilkinson and Poundland.
Successors' Challenges
The economy It's difficult to get investment to drive growth, and consumers' buying habits are constrained
The variety-store market The sector is a tight squeeze at the moment, making competition fierce
Lack of focus Woolworthss mixed product offer and unclear strategy has proven a hurdle for its successors
Locality Each town or area has different needs, making a national model difficult and making expansion for independents a challenge
Brand Today's companies must overcome consumers' confusion over what Woolworths offered, and create a clear proposition
Legal battles Shop Direct owns the Woolworths brand name, and isn't afraid of throwing its legal weight around if anyone encroaches on it. Robertson had to change the Dorchester business' name from Wellworths to Wellchester, and it's another impediment to rolling
out a Woolworths-related business