Implementing a proper waste management plan in store not only helps the environment but can cut costs too. And it's easier to get your staff engaged than you may think.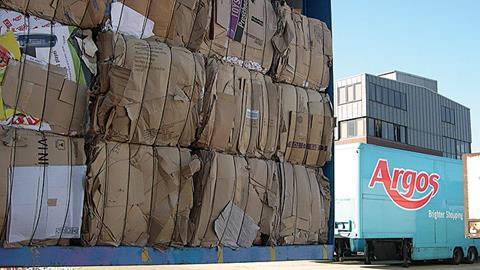 One man's rubbish is another man's treasure; even in retail. There are huge benefits to be had by paying more attention to the waste produced in store - cutting down on what goes to landfill and for a limited few even making money from recyclable materials.
Many of the UK's largest retailers have ambitious national policies on waste - with zero waste to landfill pledges part of them. In August, Tesco revealed it has already achieved zero waste to landfill. It sends 385,000 tons of waste for recycling each year; and the remaining 150,000 of residual waste is sent to be dealt with by one of six technologies used to deliver landfill diversion.
The grocer has its own recycling facilities where materials to be recycled are backhauled to its distribution centres. Here material is sorted, collated, bulked and sent for processing.
At Tesco, 300,000 tons of cardboard is backhauled from its stores to one of 11 recycling service units within its distribution network. It is then sent on to a paper mill in Kent to be turned into new boxes to be used within the business. "Whatever we recycle we will try and get back into the store," says Tesco head of waste and recycling Sion Stanfield.
The real challenge though is translating ambitious policies into behavioural change in stores. "It's about winning the hearts and minds of colleagues and that's about getting the engagement of store managers," says Stanfield.
"There is a battle to be won in the boardroom and on the shopfloor," agrees Tim Price, national commercial manager for sales and marketing for Severnside Recycling, which manages waste for the retailers such as Tesco, Mothercare and Marks & Spencer.
But the message is getting through as staff begin to translate their recycling behaviour at home to the workplace too. "It's all about just making it business as usual," says Home Retail Group head of corporate responsibility Rosi Watson.
Home Retail Group has increased recycling rates from 20% in 2005 to 75% today. It is one of six DIY retailers that in September signed up to an agreement to reduce packaging and waste to landfill initiated by the Waste & Resources Action Programme (WRAP) part of which focuses on halving the waste to landfill from back of store by the end of 2012. "We are doing lots of things to reduce the waste we produce such as looking at specific product lines - for instance our sofa bag, which is like a giant jiffy bag and is reused about seven times saving 1,800 tons of packaging a year," says Watson.
"It's about how you stop the waste in the first place and manage it through the supply chain," says WRAP retail supply chain manager Charlotte Henderson. Simply analysing product at the different stages can identify products that are overpackaged and therefore where waste can be reduced.
Get active
Getting staff engaged enough to care about the waste means making it simple for them to handle. At Tesco recycling shrouds are fitted to the retailer's roll cages so that staff can sort cardboard and plastic as they are replenishing. At the back of store are various containers to collect the different waste streams and the retailer is also introducing small balers so that it can compact cardboard in stores.
Coloured and clear labelling on recycling units also helps as do strict controls on compliance. At Tesco there is a compactor in-store for general waste that can only be opened by the store manager twice a day. "We have reviewed the signage on the compactors for general waste to make sure that stores don't put in cardboard, etc," says Stanfield.
Clear communication is vital.
At Homebase the retailer has a store communications programme for staff called Putting Waste in its Place while at Argos a similar programme helps to share best practice. Focusing on specific messages helps according to Watson.
"If you launch a programme on a particular issue that helps to focus people's minds. We identified garden waste was a problem so we did a big communications programme to take better care of plants - that has led to a 50% reduction in plant waste," she says.
Other simple measures such as putting cardboard boxes out at the end of tills for customers to use and donating end of line products to charity have also reduced waste.
Retailers such as Tesco and Home Retail Group have waste champions in stores to help drive home the message. But the communication has to be constant, according to Watson.
Matthew Rowland-Jones, head of retail food and drink at government-funded body Envirowise, agrees: "It's about having clear messages in simple terms and constantly giving that drip feed message so it becomes ingrained in their way of thinking," he says.
Many retailers produce league tables to communicate how stores are doing.
At Home Retail Group each store has its own key performance indicators for waste. At shopping centre owner Lend Lease its centres report breakdowns of their waste on a monthly basis. "When you get the monthly statistics you can see who is recycling. There is no obligation on a tenant but we will go round and speak to tenants that need to improve and will ask them to segregate waste onsite," says Lend Lease head of sustainability Duncan Young. The reminder that doing so can reduce their service charge is an appealing argument for compliance, he adds.
Lend Lease launched waste management plans for its centres last year. The five centres - which include Touchwood and Bluewater - currently generate 10,000 tons of waste a year and Lend Lease is aiming for zero to landfill by 2016 although two centres have already achieved the target.
Colour-coded bins are provided for store use and are placed in strategic locations where waste is generated such as in corridors or on service decks. As well as recycling cardboard and plastic, composters have been introduced at some centres. "Bluewater used to generate a lot of green waste but we now compost that onsite. That was 5% of our waste so we have reduced our costs by not having to get rid of it," says Young.
Environmental Waste Systems sales and operations manager Brian Quinn says retail parks need to adopt the same practises. The Two Rivers Shopping Centre in Staines previously had 13 waste companies attending the site 1,300 times a year. "Almost all the waste was going to landfill and they weren't doing any segregation onsite. Now they have an onsite recycling solution that has brought 1,300 visits down to 40 and from 500 tons going to landfill there is now 200. They were spending £120,000 a year and are now spending just over £40,000," says Quinn. He says individual stores have halved their waste bills as a result.
His company is also working with furniture retailer DFS, which is saving £400,000 a year since introducing new waste management practises within its stores in 2005.
Recycling can make money for the big boys. "We generate millions of pounds through cardboard and plastic and from everything we recycle there is a revenue that pays for the waste
service," says Stanfield.
Smaller retailers may get despondent paying for such services and the idea of staff spending extra time going through the bins may seem a waste of resources, but get the processes right and you will not only cut your waste charges but also do your bit for the environment.
How to reduce waste
Make it easy for staff - colour-coded clear communication on what to recycle where
Put recycling facilities where the waste is produced - eg on the shopfloor if replenishing or back of store
Collate your waste with other local retailers to build up volumes and make collections worthwhile if you are a smaller retailer
Realise that recycling will cost you money but will also save you money and be good for the environment