The importance of the supply chain to retailers cannot be overstated, according to Cognizant.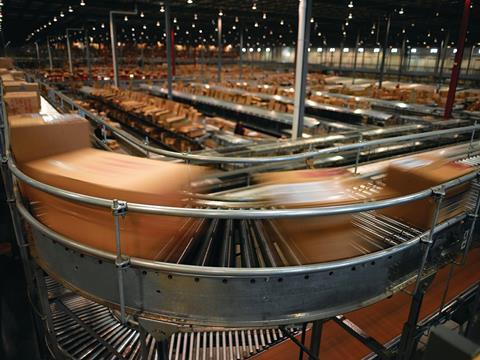 Advertorial
This is an advertorial provided by Cognizant
We've all noticed it as customers – a great shopping experience undermined by a frustrating delivery service, unavailable stock, or products that are broken or damaged on arrival. It is impossible to overstate the importance of the supply chain in retail.

Some retailers have got it right. For Amazon and Asda, their supply chains have become a competitive differentiator, raising the bar for the rest of the market. Customers now expect a certain quality of service wherever they shop and increasingly same-day delivery, one-hour delivery windows and real-time updates are the norm.
But achieving supply-chain excellence isn't easy when you're sourcing thousands of lines from hundreds of suppliers in dozens of countries. Many retailers are also held back by the constraints of legacy systems and siloed organisational structures, and the experience they deliver is just as outdated and disjointed.
Between these two extremes is an entire supply chain maturity curve. Understanding where you are on that curve is the first step in taking your performance to the next level. We have identified four levels:
Decentralised – You have developed efficiencies within departments or in specific regions but each unit within your supply chain is operating independently.
Unified – At this stage your internal departments, such as procurement, finance and logistics, are brought together as one team to create a central supply chain organisation. But this still leaves suppliers and customers on the outside.
Networked – this is remedied by creating a networked organisation that brings partners and suppliers into your supply chain. It will also see you develop a common language for all units, which means that payment terms and delivery timescales, for example, are standardised across your supplier ecosystem.
Orchestrated – At this stage you have created a complete end-to-end supply chain where everyone is working together to get the right product, to the right place, at the right time. The entire supply chain function is tightly integrated, managing multi-channel demand and driving multi-fulfilment strategies. Ultimately the goal is to have a touchless supply chain, where the order is taken by the retailer and fulfilled directly by the supplier.
But the cutting edge is always evolving. Already we are seeing some retailers bringing predictive analytics into their supply chain via big data and M2M sensing. This is coupled with demand sensing technology, which monitors daily demand signals, enabling retailers to react in real time at an individual store level.
Starting your journey
Transforming your supply chain to move up the maturity curve will likely involve big changes to people, processes and technology. So how do you know where to start? We suggest you ask six key questions to open the discussion:
Is supply-chain management a strategic boardroom position in your organisation? We have already discussed how a fully integrated supply chain is key to giving you a competitive edge, and having senior buy-in will ensure your business has a strategic focus on cost, time and quality in terms of both process and product.
Is the movement of information and money as critical in your supply chain as the movement of materials? Effective supply chain orchestration means having a seamless flow of information and money so that goods can be delivered in line with customer expectations.
Do you have a built-in change-management process that constantly monitors the dynamics of your supply chain? An orchestrated supply chain means an agile supply chain, and so all partners and processes need to be able to adapt to change in order to improve quality and drive operational efficiency.
Does your supply chain minimise the number of touches and the touch time in supply-chain transactions? A touchless chain means you can drive zero failure principles and deliver 100% on-time capabilities.
Is quality built into your supply chain? Ultimately the goal is for the customer to get what they want at the time they asked for it to be delivered, but all that is irrelevant if the product is broken when it arrives.
Do you have the relevant resource capability? It's so important to have the right talent with the right skills in your supply chain. An internal talent assessment can quickly tell you if you've got what you need, and help you to identify your competency improvement programme.
Jasbir Badeshia is head of supply chain, enterprise services, Cognizant
Advertorial
This is an advertorial provided by Cognizant