Ensuring top-rate customer service can be a challenge at the best of times, but it's doubly difficult in the new year post-Sales lull. Liz Morrell looks at how to solve the problem.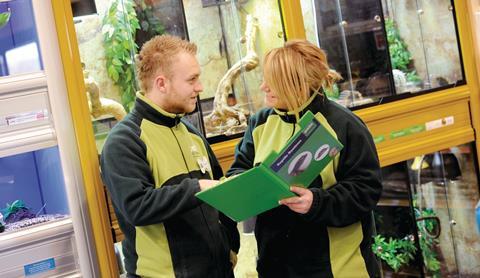 For many people the Christmas break brought welcome time out from work to rest, recuperate and return refreshed and raring to go in January. For retail employees, though, it's a different story. Most staff have lurched directly from their busiest trading period of the year, with the Christmas build-up and then the January Sales, into a lull when many consumers are spent out and not shopping.
Last Monday was heralded by some as Blue Monday – the date that academics dub the most depressing of 2012, because of generally miserable weather, post-festive debt and fast- failing new year resolutions.
In such times, customer service is more important than ever, but maintaining morale and keeping staff occupied at this time of year can be a tough challenge.
Pets at Home human resources director Ryan Cheyne says that although employees' energy levels can be down, the retailer focuses heavily on getting back to everyday trading. "The post-Christmas period is busy in the first couple of weeks, but then we run a campaign to get the stores back to normal, having a tidy-up and helping everyone to get back into the swing of things," he says.
High spirits
Incentive schemes, which will pay out this month, will help maintain morale. As well as general sales incentive schemes in the pre-Christmas period, Pets at Home ran a values one in which staff who delivered particularly well against the retailer's core values were given entry into a post-Christmas draw.
Cheyne explains that the challenge ran during November and December, when it distributed handwritten notes of thanks to staff which also functioned as raffle tickets for prizes such as iPads and iPods.
As well as incentive schemes, daily or hourly targets and focused 'power hours', in which staff spend one hour each day focusing on a particular task or aim can be useful.
Another option is to run a buddy system in stores. Once peak trading hours are over, retailers could try pairing junior staff with more senior managers to help provide fresh insight into how to deliver good customer service. This helps on several levels – it not only provides a break from the norm, but it also allows all staff to integrate better – which can only be good for working relationships and team morale.
Quiet time
Skillsmart chief executive Anne Seaman says the quieter period offers an ideal time to deliver or reinforce training, which itself will aid service levels. "When it's quiet it is hard to get up and motivate yourself to do something, but you can use that time more productively," she points out. She says it's the ideal time to reinforce training, so that staff realise that "even though things may be tough or quiet there are things you can do to make a difference".
Go Outdoors HR recruitment and training manager Simon Clayton says it is also about recruiting the right people in the first place and that staff should care about the product they sell if customer service is to be maintained.
"The management teams are the ambassadors for the brand and we absolutely rely on them to drive the brand. If we have recruited the right people who enjoy looking after people they won't get bored because they will want to be serving and looking after customers," he says.
But when there is little more to do than meet and greet is it really that simple? Envision Retail managing director Jason Kemp says retailers also need to think about balancing the workloads of staff accordingly during this time. He advises looking at sales histories and workloads and planning the staff level around that.
"If you have too few people and they are overstretched then they will get stressed. If you have too many people kicking around they will just get bored," he says.
Encouraging staff to take holiday in quieter times can also help boost customer service once they return. Cheyne says people tend to take a significant amount of holiday in January and February. "By booking people in we give them the chance to recharge their batteries," he explains.
But, of course, although customers may be reluctant to spend once the Sales have died down, for many retailers – especially those in the fashion sector -– this is the time when new product is hitting the stores. As Kemp points out: "If you have new season product coming in there is a real opportunity to get people engaged around something new. The store will look refreshed and lovely and there will be brand new product in it – that is a good hook," he says.
He recommends retailers focus on ensuring both staff and customers are passionate about the new product, whether they are ready to buy yet or not, by sharing with customers the direction for the retailer in the coming months.
At Go Outdoors, Clayton also believes the quieter periods are a time to engage more fully with customers. "If a customer comes into the store it is an investment of their time, so we have to look after every single customer and show an interest in them. We don't take anything for granted," he says. This approach applies just as much to staff.
"We can't just drive them like machines because then no one wins," he says.
Positive spin
In the current trading environment, maintaining morale and customer service is a hard enough challenge, but for retailers such as Blacks and La Senza whose businesses have been in the glare of negative publicity since well before Christmas, maintaining positivity, service and customer spend is tougher than ever because many customers, and certainly all staff, are only too aware of the troubles such retailers are facing.
In such cases it is more important than ever to focus on good customer service. And ultimately, it's the job of senior management to make that happen. "Troubled retailers have to make sure their staff know that when a customer walks in the door, the one thing that will save those businesses is customer service and that they are key to saving their own jobs," Clayton says.
With customers continuing to be cautious this year, customer service will remain vital – regardless of how the business is performing. A positive shopping experience will be talked about. On the other hand, if a consumer's memory of a shopping trip was of someone twiddling their thumbs and looking like they would rather be anywhere else, they won't.
Boosting your service
Run a themed campaign For example: 'Get the present you really wanted' or 'Classics for 2012'
Incentivise teams to achieve sales and profit targets Offer small prizes daily or weekly, a gift for all who achieve 10% over target or a bonus scheme based on profit
Turn a no into a yes Focus on ways to convert returns into sales
Atmosphere Use music, intro conversations, displays, posters to create value added themes
Merchandise to sell Retailers could create strong displays with the chosen theme, rebalance lower stock levels with very strong displays and focus on the old adage that the product is the hero and the customer is king
Create themed conversations to give shoppers reasons to buy now For instance, how to make your Christmas gift come alive with the right accessories/consumables by asking what customers got for Christmas
Source: Retail Performance Specialists